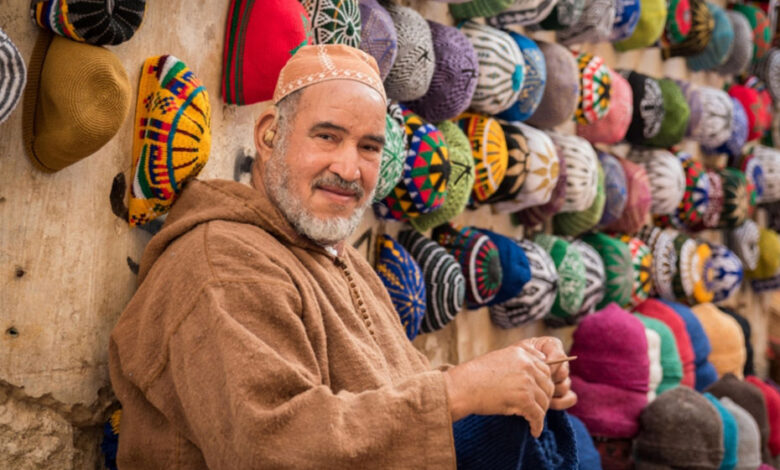 What is morocco known for? This is a question asked by so many people. Let's start by saying that Morocco is known for its diversity in many ways, which makes it an attractive destination for foreigners who like to discover different cultures, climates, geographical landscapes, and so on…
Morocco is known for its warm weather as well as its desert and camel rides without forgetting its appealing and extremely delicious dishes. But is that all? No, it is not! Morocco is known for so much more than that and this is what you will discover and learn in this very detailed article. So be sure to read it until the end!
Facts – Why is Morocco so famous?
Known as the gateway to Africa, Morocco is one of the most dazzling destinations in the world. Islamic, African, and French influences have contributed to this charming and diverse culture. This is what attracts many travelers each year. You must have seen at least once breathtaking pictures on Facebook or Instagram about this amazing country that is Morocco.
Want to know more about what is Morocco known for? Then this article is for you! Below you will find 28 things and more about this North African country.
Morocco is known for:
1. The Casablanca movie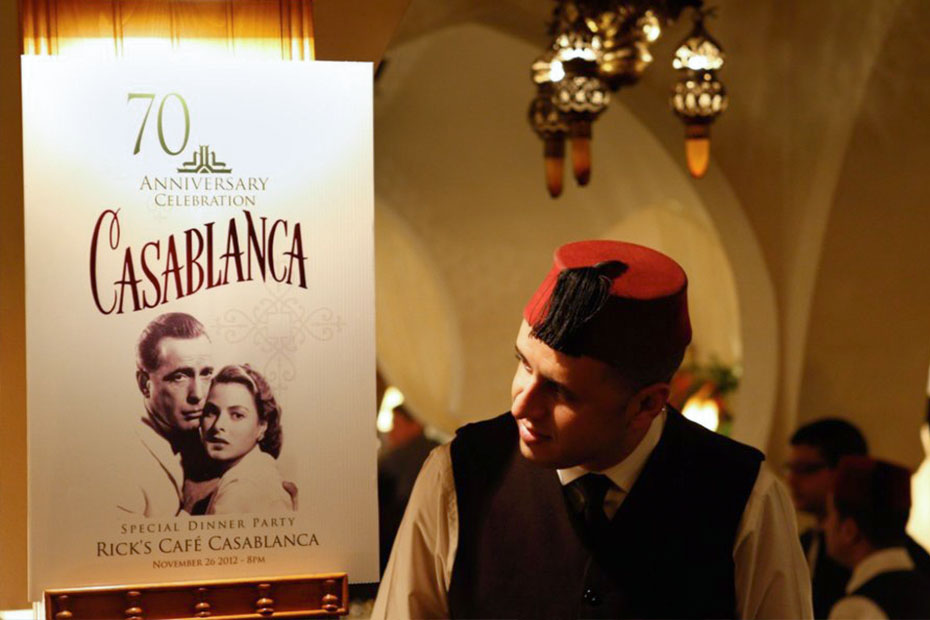 Who hasn't heard of the movie Casablanca? It's one of the most famous American movies of all time that marked history. This 1940 movie takes its name from the biggest Moroccan city which is; Casablanca.
The movie received 8 Oscar nominations in 1944! It is considered to be today one of the greatest masterpieces in the history of cinema. Yet… Do you know everything about this movie? The filming of Casablanca was quite chaotic due to various factors… Click the link below to learn more about it!
Learn more about it here: What is the link between Morocco and one of the best romantic movies of the 40's?
2. The Hassan II Mosque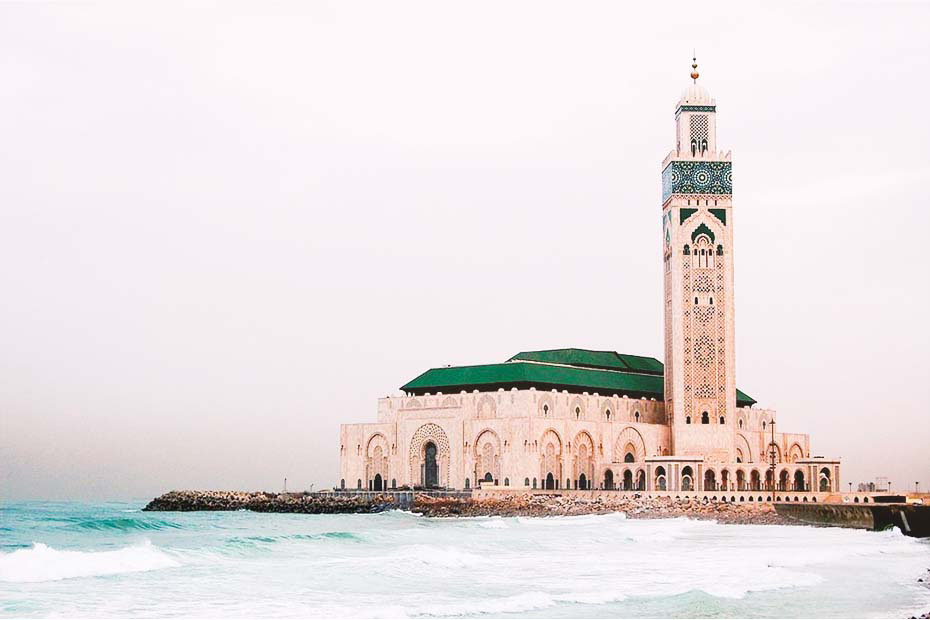 One of the largest mosques in the world. The Hassan II mosque is really famous, especially due to its amazing and outstanding architecture and because it is located near the sea. It is "the" most famous place to visit in Casablanca. 
It has the capacity to accommodate more than 100,000 worshippers at a time. You should also know that it is named after the father of the current king of Morocco, whose name was Hassan II.
3. Its warm weather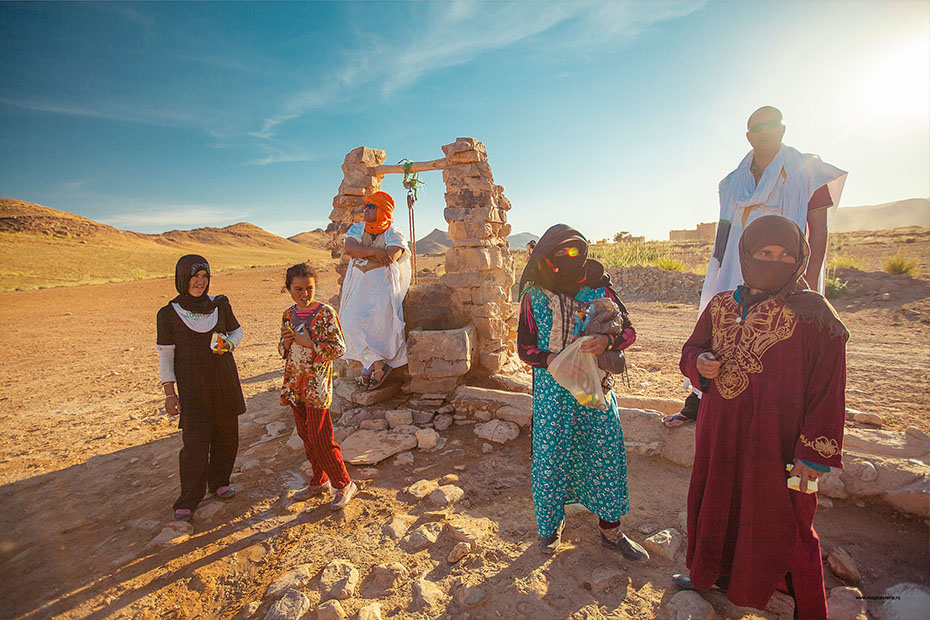 What is Morocco known for? It's warm weather obviously! When someone hears Morocco they automatically hear hot weather. This subject can be considered as a kind of stereotype… Well, it is true that morocco can be hot on occasions, especially during the summer and in some particular cities, but the weather can be really pleasant all year long.
Morocco has different climates (Mediterranean, oceanic or continental) with generally mild winters and hot summers. Inland, the climate is drier and in the mountains, the climate is more continental. In Marrakech, temperatures range from 19°C in the winter in January to 40°C in the summer months.
Morocco is a destination that can be discovered all year round except in summer when the heat is difficult to bear in certain cities. Overall, Morocco has a very enjoyable climate.
Click here to learn what is the best time to travel to Morocco!
4. It cities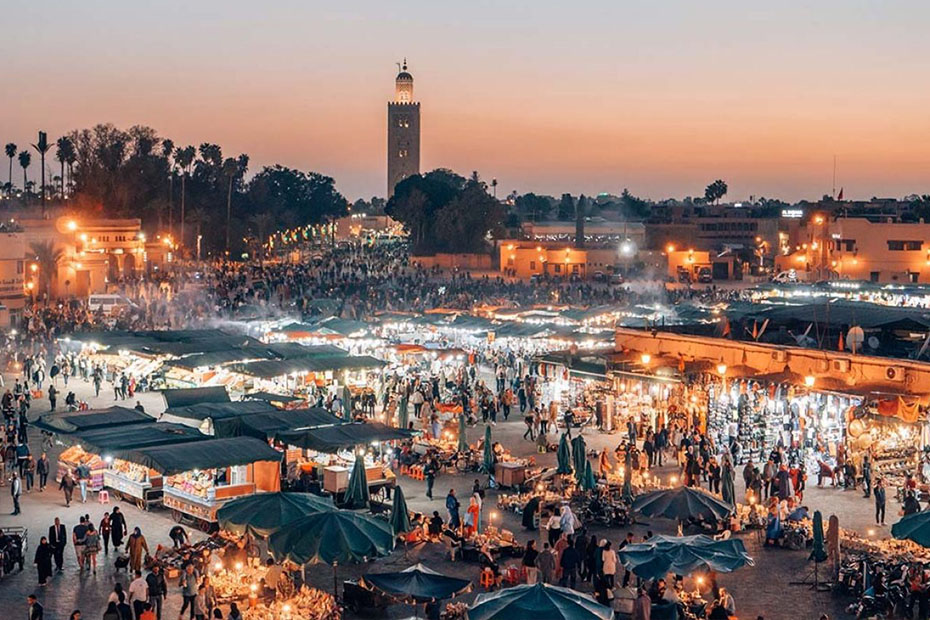 Morocco is known for some of its cities that are really famous like Marrakech, Casablanca, Chefchaouen, Ouarzazate.
What is special about Morocco is that each of its cities is unique and has a certain vibe to it. They can even have their own custom, traditional clothing, dish, and more! Morocco is very unique in every sense of the word!
5. Sahara desert and camel rides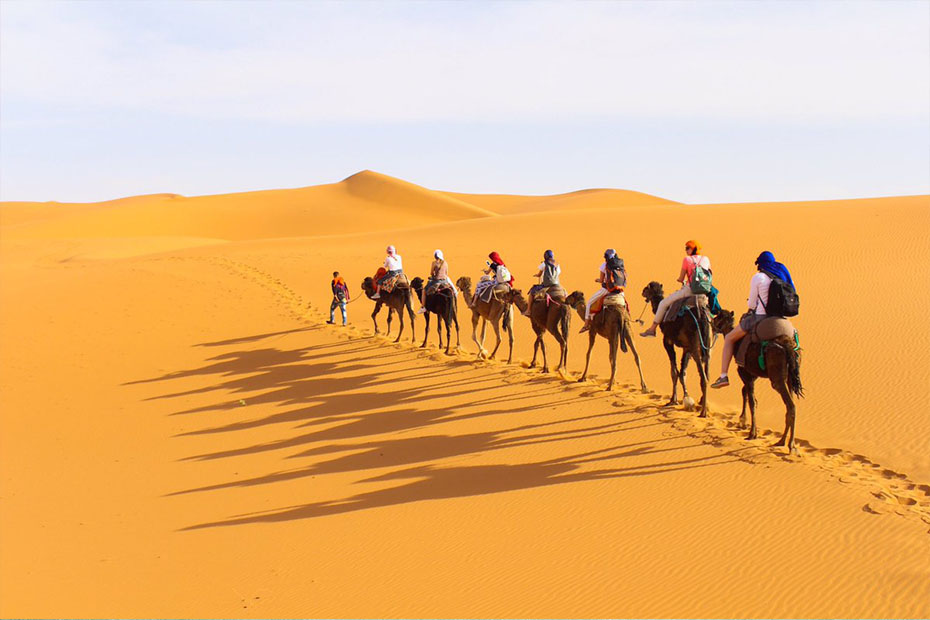 The camel ride remains a must for travelers in Morocco. That is probably what Morocco is most known for. In the Sahara desert, Marrakech, as in other cities of the Kingdom, it is common to cross these adorable mammals of the camelid family, in other words: dromedaries!
It is the ideal means of transport to travel through the desert. Besides, it is the one used by the nomadic tribes. The camel or the dromedary is the animal of predilection for whoever wishes to discover the immensity of the Moroccan Sahara, in the optimal conditions to create a magical and unique experience to remember.
Even though it can be considered as a stereotype since lots of people picture morocco only with its fine sand and camel rides, who wouldn't enjoy camel rides on the beautiful Sahara desert…
6. Souks!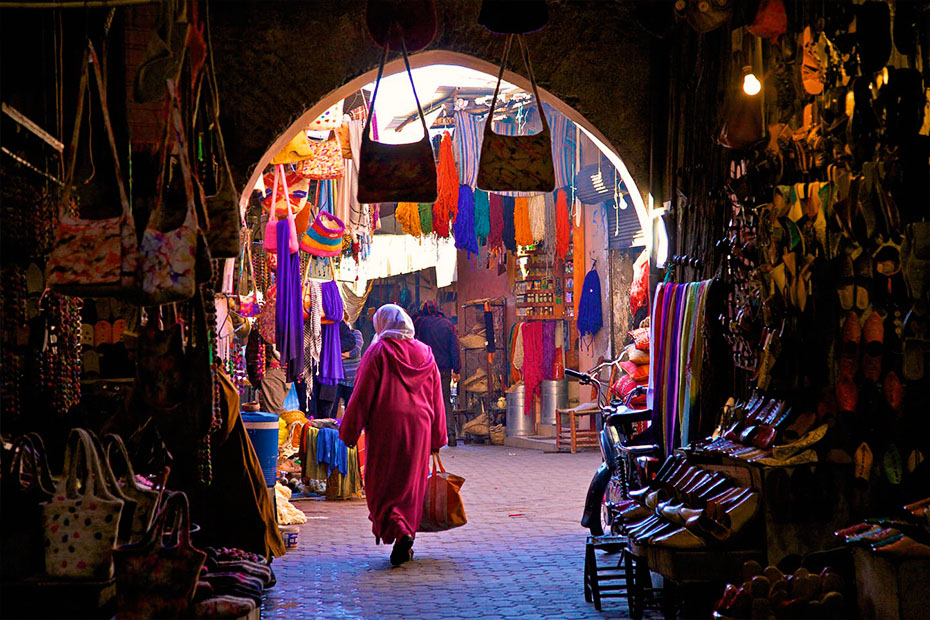 Souks are like traditional oriental markets. You can find anything you want there.
The souks of Marrakech are one of the main places of trade and tourism in Morocco. Anyone can wander through the narrow alleys of the vast artisanal markets of Marrakech, Agadir, or Fez where you could find: jewelry, Berber wool carpets, tagine dishes, leather slippers, perfumed spices, etc. The souks of Morocco hide many treasures to discover.
It is also worth mentioning that Agadir has the biggest souk in Africa and that Marrakech is, as already mentioned, really well known for its beautiful and unique souks.
7. Moroccan tea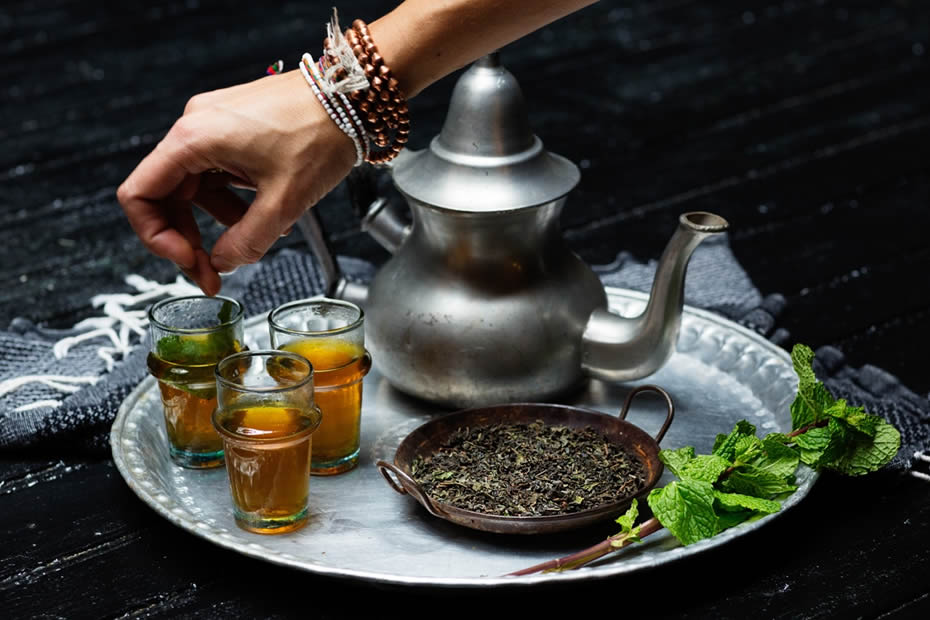 Moroccan tea is the main drink of Morocco. It is essential and can be taken at every meal and for all occasions, parties, meetings, and family evenings. When guests come, a Moroccan always offers mint tea.
Mint tea is the traditional drink of the Maghreb countries and is native to Morocco. The tea is obtained through the infusion of dried green tea leaves (Gunpowder type), and mint, with some sugar and, is served very hot.
It is even served in a unique way that lets the foreigners be amazed when poured. You can learn more about it in the article below
Learn more: What is Moroccan mint tea?
8. Argan oil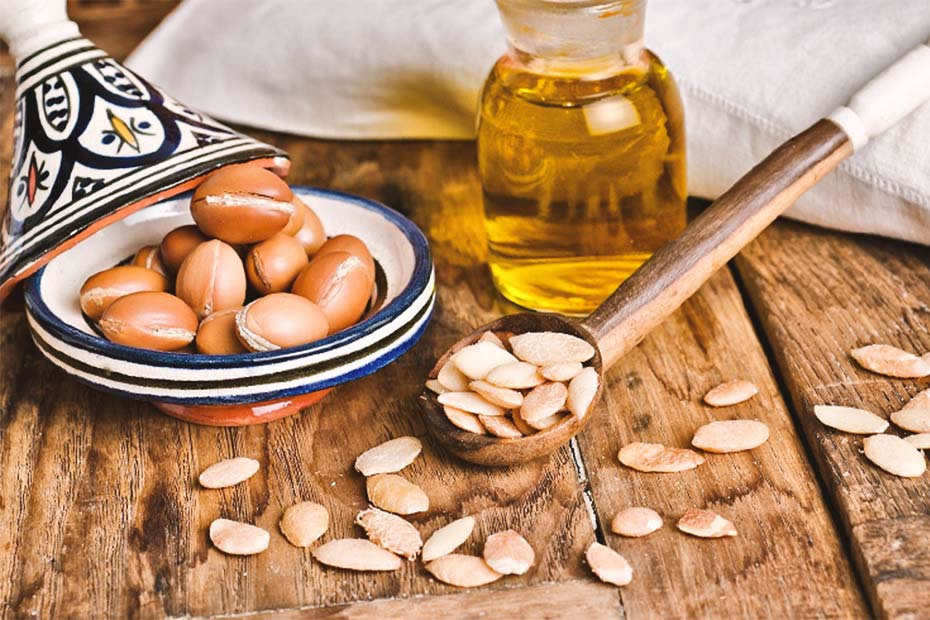 I bet you already heard of the Moroccan argan oil. It is more known and used every day, especially by women. The argan tree of its Latin name Argania Spinosa, is a tree present mainly in Morocco. It allows the local population, especially the Berber women's cooperatives, to live and flourish by working the argan in its various forms.
Its richness results from the meticulous selection of the almonds of the argan tree in order to offer you an argan oil of an exceptional quality. Regenerating, moisturizing and anti-aging thanks to its vitamin E, it sublimates the skin, the hair, and the nails.
Many studies have demonstrated the benefits of organic argan oil in cosmetic and food use. The linoleic acid, oleic acid (omega 9), and vitamin E that it contains make it a perfect antioxidant. It softens the skin, preventing the appearance of wrinkles or stretch marks. It moisturizes and nourishes in depth the skin as well as the hair. A true treasure of nature, argan oil is definitely a priceless product that you can find in Morocco and online now. It is definitely something that morocco is known for.
9. Soccer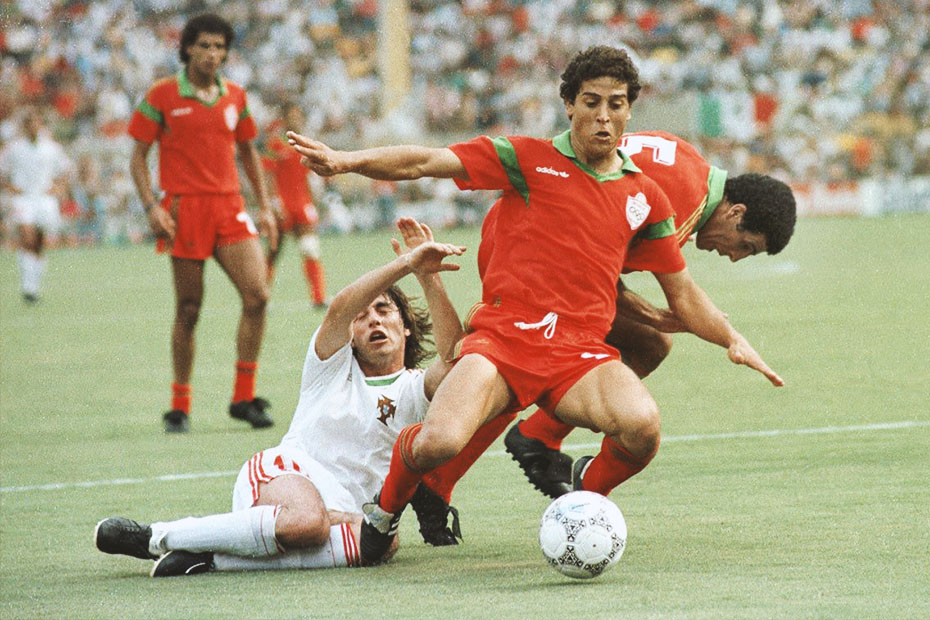 Morocco in the 1970 World Cup is a mythical team. Since that time and especially in 1986, the Moroccan soccer team amazed lots of people.
That team has made Morocco famous for its soccer players.  As worthy representatives of the African continent, the presence of the Lions of the Atlas gave all its sense to the words "World cup".
Also, so you know, Morocco's derby is also ranked number one in Africa and the Arab world and is in the top 30 worldwide!
10. The Atlas Mountains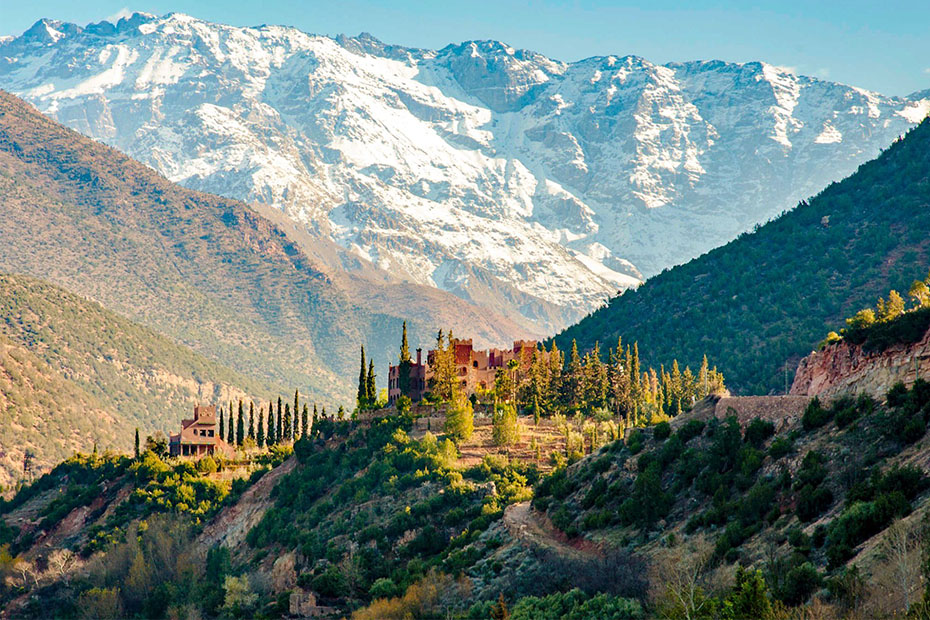 The Atlas Mountains… The mountainous massif of North Africa. The Atlas extends over three countries of the region: Morocco, Algeria, and Tunisia. 2 500 kilometers long, the massif forms a barrier between the Mediterranean Sea and the Sahara. Its Moroccan part is probably the most interesting.
The Atlas Mountains of Morocco attract most visitors. Morocco is very known for that. Many come to climb Jebel Toubkal. Its highest peak culminates at 4 167 meters!
Divided between the three Maghreb countries, the Atlas Mountains are among the must-see places in this region. No matter which country you go to, don't miss the chance to visit the Atlas Mountains in Morocco. Beautiful landscapes, canyons, oases, and rivers are waiting for you there.
11. Spices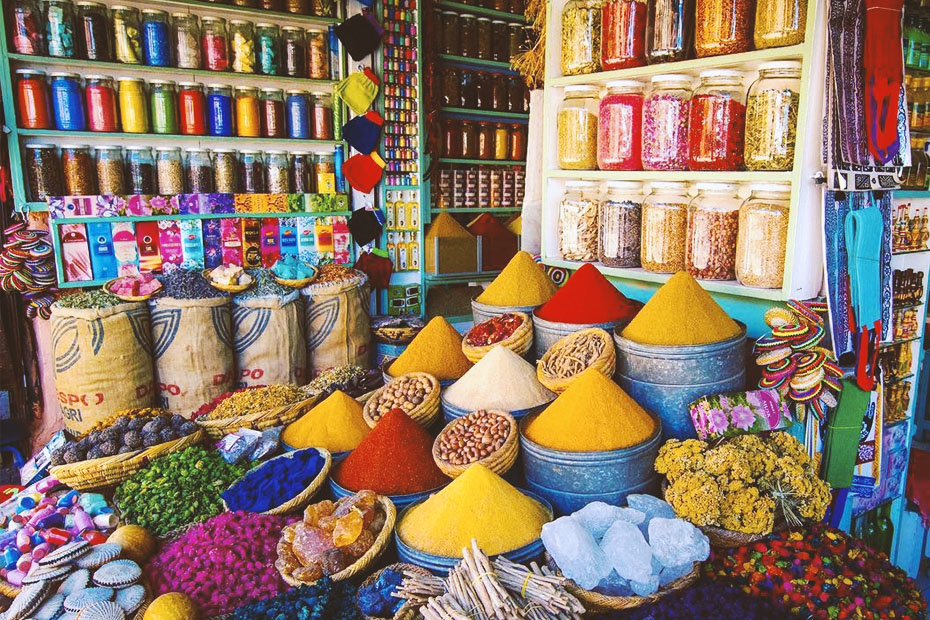 Moroccan cuisine is known for its flavorful, aromatic spices. These spices are used to add flavor and depth to dishes, and often play a starring role in Moroccan cuisine.
Some of the most popular Moroccan spices include cumin, ginger, cinnamon, paprika, and turmeric. These spices are used to create a wide variety of dishes, from tagines and couscous to chicken dishes and salads.
If you're looking to add a touch of Moroccan flavor to your cooking, be sure to stock up on some of these spices!
12. Moroccan food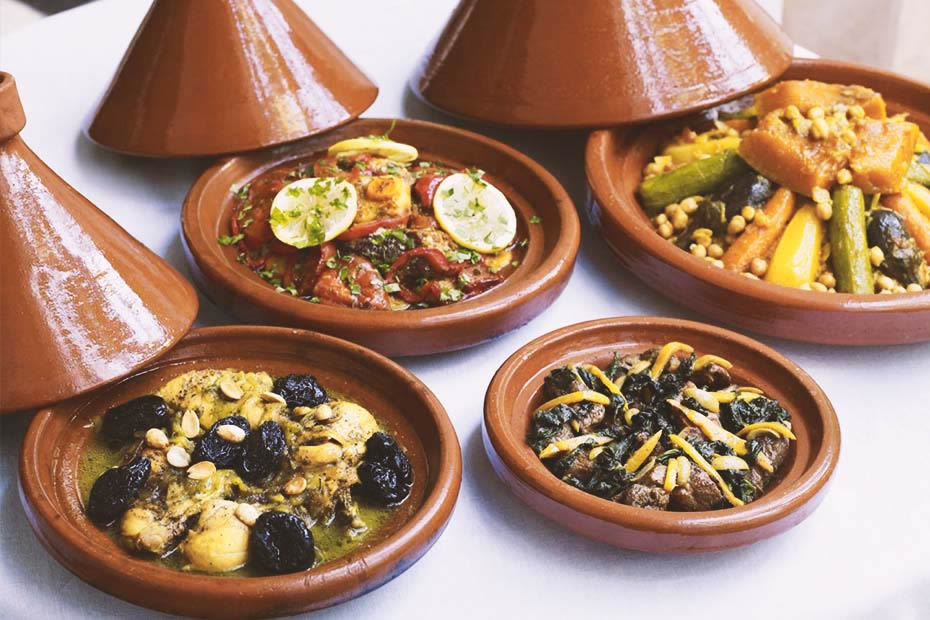 Moroccan cuisine is known as the most gourmet and refined of North African cuisines and is even considered one of the best cuisines in the world!
Being considered as Mediterranean cuisine, we find among its traditional recipes Arab, Andalusian, and even Jewish due to its unique history. We can't even name all the Moroccan specialties as there are so many of them!
Read also: Best cuisine/food in the world: Who is on top in 2023?
13. Small alleys and Moroccan rugs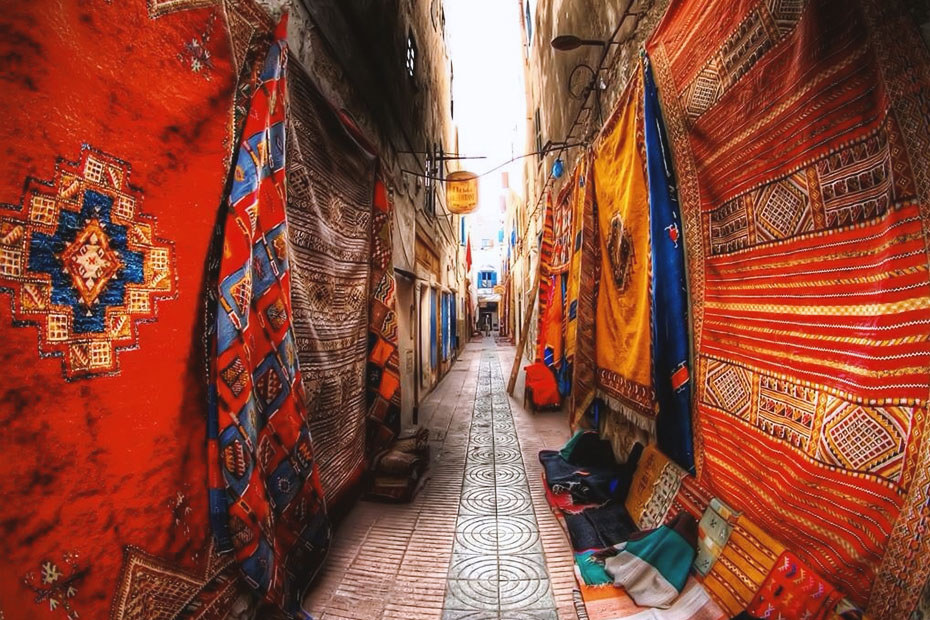 The small alleys of the medinas are full of life. The voices coming from the houses, the sounds of children playing in the alleys… Men in djellabas walking or stopping to talk. Others put down a chair and observe. Morocco is known for its small alleys but that's not all, it is also known for its well-distinguished carpets.
Moroccan rugs are traditionally made. The making of carpets is a heritage that has been passed down from generation to generation.
They are unique, authentic but also very trendy in recent years. You will find carpets of all styles. There is for all tastes!
14. Moroccan craftsmanship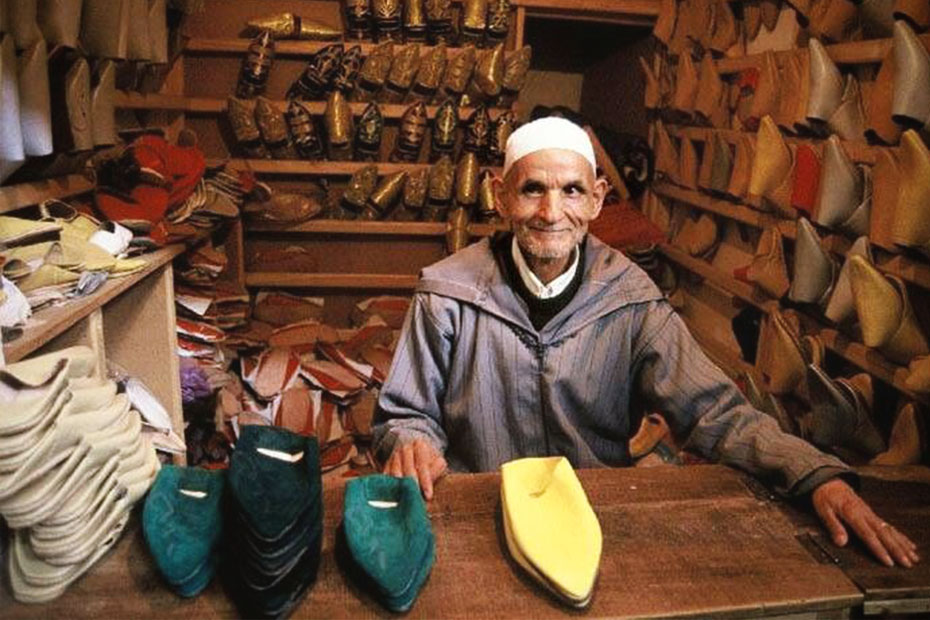 Moroccan craftsmanship refers to the various products that come from Moroccan cultural heritage and know-how.
The first known inhabitants of Morocco, the Berbers were the precursors in the field of handicrafts especially in the work of wool (carpets), iron and silver (jewelry), various utensils, and clay (pottery). After the Islamization and the arrival of the Arabs, other forms of handicrafts were developed: copper work (various utensils, tables), wood, wicker, esparto, and clay (pottery).
Drawn from raw materials that are in abundance, this craft can be found in almost all of Morocco. It should be noted that each region has its own specialties. But the most famous cities for their crafts are Fez (leather, copper, silver, gold, fabrics), Marrakech (leather, copper, carpets), Essaouira (wood, carpets, silver), and Rabat-Salé (pottery). The regions of Agadir and Tafilalet also have valuable crafts. Moreover, it is only in the city of Meknes that one can meet craftsmen who practice damascene (art of engraving on steel that allows to make vases, jewelry …)
15. The " Marrakesh express song"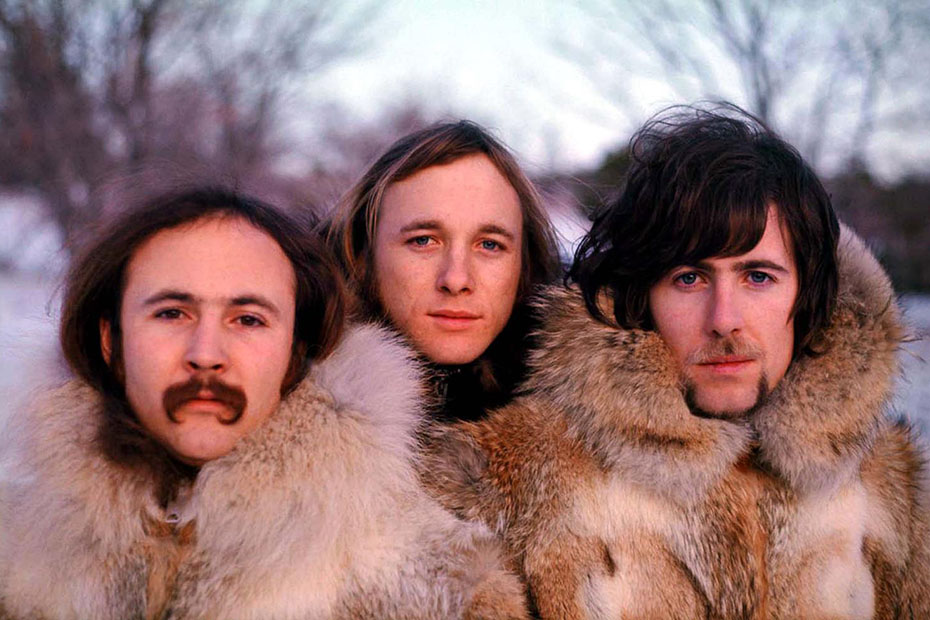 Marrakesh Express is a song by Crosby, Stills & Nash, released in 1969 on the first self-titled album Crosby, Stills & Nash.
Known as the lead singer of the 1960s British pop group The Hollies, Nash was one of many Western artists and celebrities who saw Morocco as an essential stop on the hippie wave. For the British-American singer, a trip on a train from Casablanca to Marrakech was fascinating enough to write a three-minute pop song about it!
A song that according to critics, defined the era of hippie music in the 1960s!
16. Moroccan lamps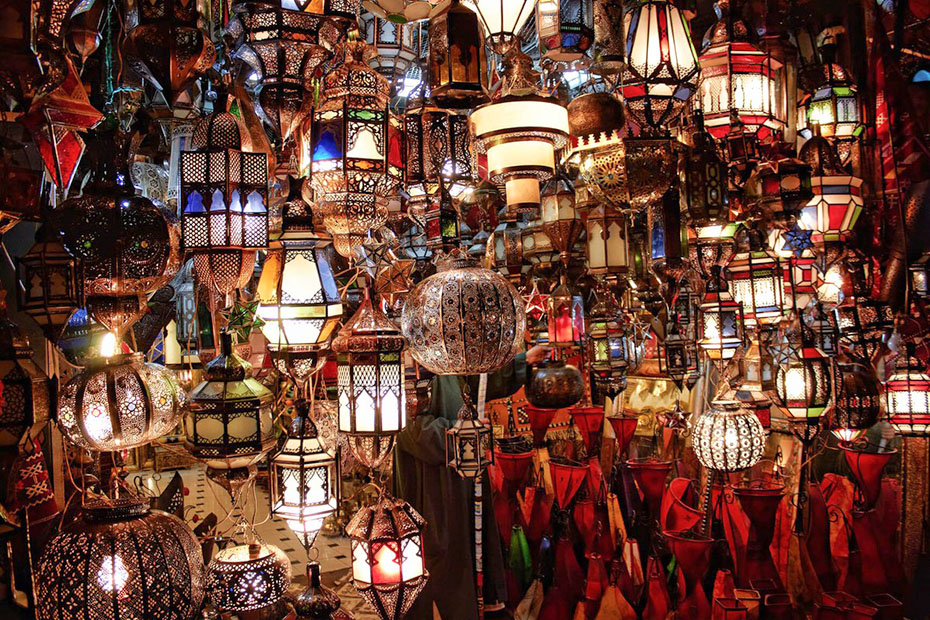 What is Morocco known for? As of many artisanal Moroccan things, Moroccan lamps are really beautiful and can be a very stylish and amazing decor. In Morocco, the lighting of homes always contributes to making the rooms warmer and friendlier. Soft lighting is often preferred, creating shaded areas for a soothing atmosphere. Restful for the eyes, this soft light reinforces the feeling of well-being and intimacy.
In Moroccan souks, especially in Marrakech, you can find lots of lamps like shown in the picture up above.
Omnipresent in Moroccan decoration, these lamps are designed to diffuse an indirect light combining the light reflections on the walls. These Moroccan wall lamps and lampshades are made of iron, sometimes covered with goatskin, and made by Moroccan master craftsmen.
17. Goats on trees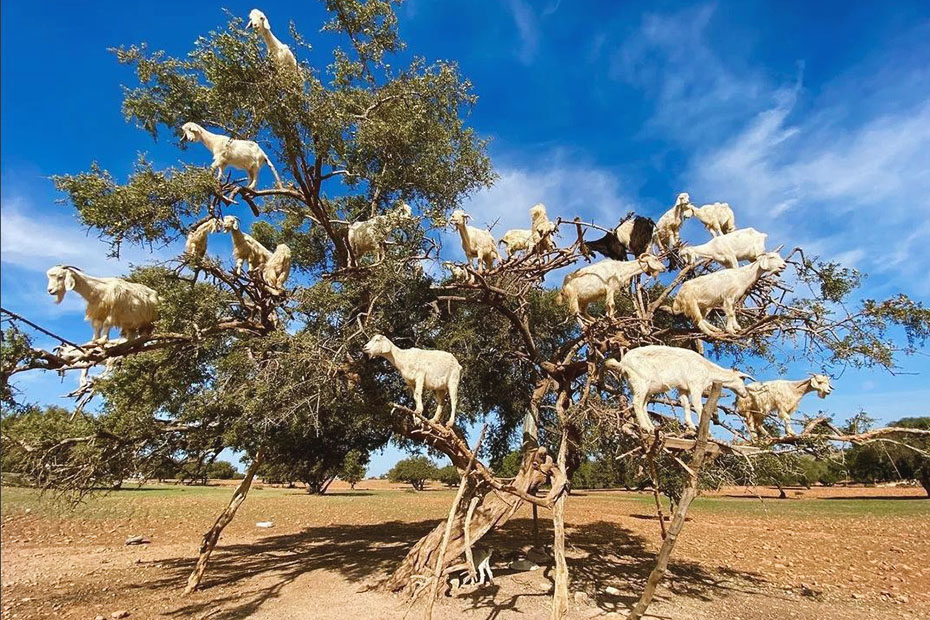 Morocco is known for its argan trees and of course, its argan oil. But wait, what about goats? Believe it or not, Morocco is famous for its climbing goats. It is frequent to see goats climbing on a Moroccan argan oil tree in some regions of Morocco as you can see in the picture up above.
They give a unique sight that never ceases to amaze tourists and newcomers to morocco! If you ever come to Morocco, don't forget to visit the Souss-Massa-Draa region south of Marrakech to see them, to also taste local argan oil. and even taste Amlou which is a paste made of argan oil, grilled almond paste, and honey. It is a must if you come to Morocco!
Morocco should also be more known for:
18. Riads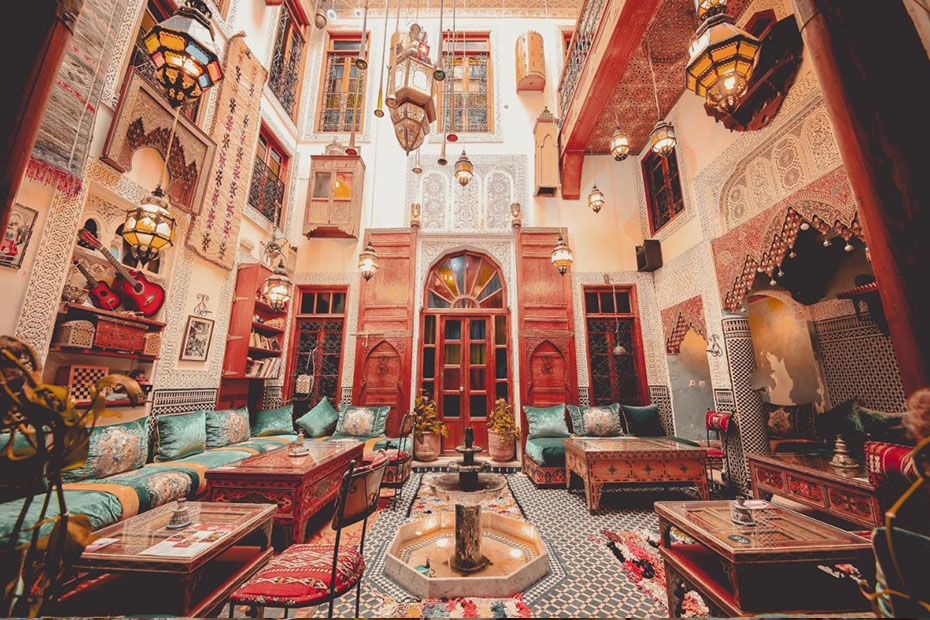 Riads are a type of homes you will found in Morocco. It's really huge and used to be lived by big Moroccan families. A riad symbolizes the essence of traditional Moroccan architecture. They are generally located in the medinas, which are the oldest parts of the cities in Morocco.
They are very unique and luxurious. In terms of aesthetics, Moroccan riads offer a decoration that combines traditional craftsmanship, harmony, and luxury. It is made with different ancient elements of various architectures and often offers beautiful frescoes with Arab geometric figures in zellige or ceramics, and so on.
Trees and greenery can be found inside a riad, but also water basins or refreshing fountains. This patio, located on the first floor, is generally dedicated to the common spaces where the living rooms, the dining room, and the kitchens are also located. As for the private spaces, which are the rooms, they are traditionally located on the first floor. Today, most of the riads have been transformed into hotels or guest houses. This has allowed them to be preserved and discovered by travelers.
19. Cats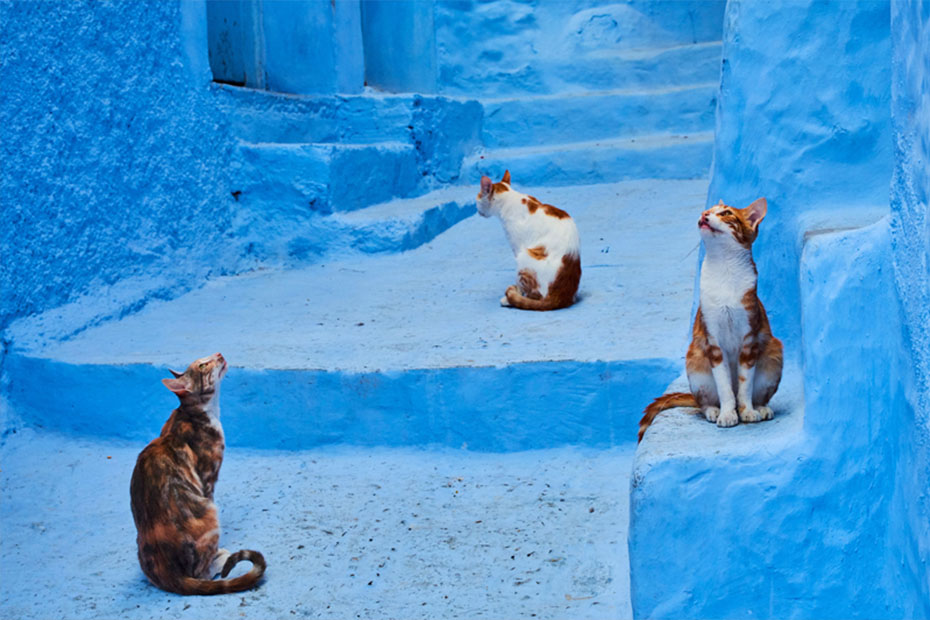 A particularity of Morocco, it is the cats, innumerable, some very thin, others well nourished. Several alleys of Morocco form a labyrinth of which the cats seem to have taken possession.
Except for people who have actually visited Morocco, not a lot know that Morocco has a lot of cats laying in the streets. They don't suffer or die of hunger. Lots of passers feed them and if cats are near a restaurant they can even have a feast.
Some Moroccan cities have more cats than others such as Chefchaouen and Essaouria but we had to mention this fact as it is something that morocco is known for.
20. Hammams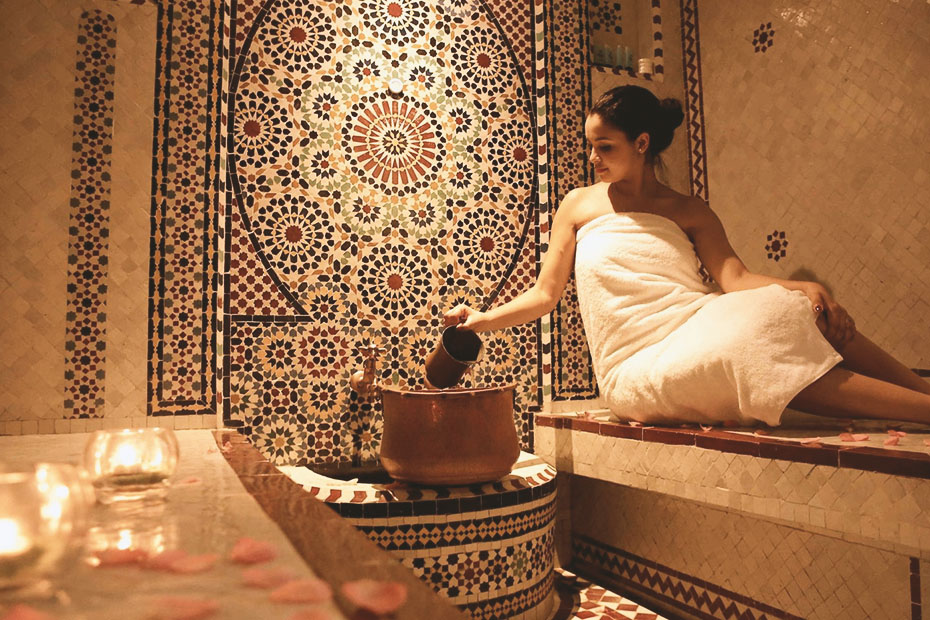 As in some other Muslim countries, Morocco is known for its hammam which is a public steam room.
The hammam occupies a huge part of a Moroccan habit. It is much more than a public bath. It is at the same time an ancestral tradition, a religious rite, a health necessity, and a social practice…
Traditionally a hammam is composed of three rooms, the more you venture into a room the hotter it will be. Washing in a hammam is a moment of relaxation where after a while the person concerned performs a deep cleaning of the skin. The first step is to make a scrub, which is the main principle of a hammam.
Of course, it is important to mention that men and women do not go to the hammam together but separately as there is a hammam for men and a hammam for women.
21. Morocco is known as the African Hollywood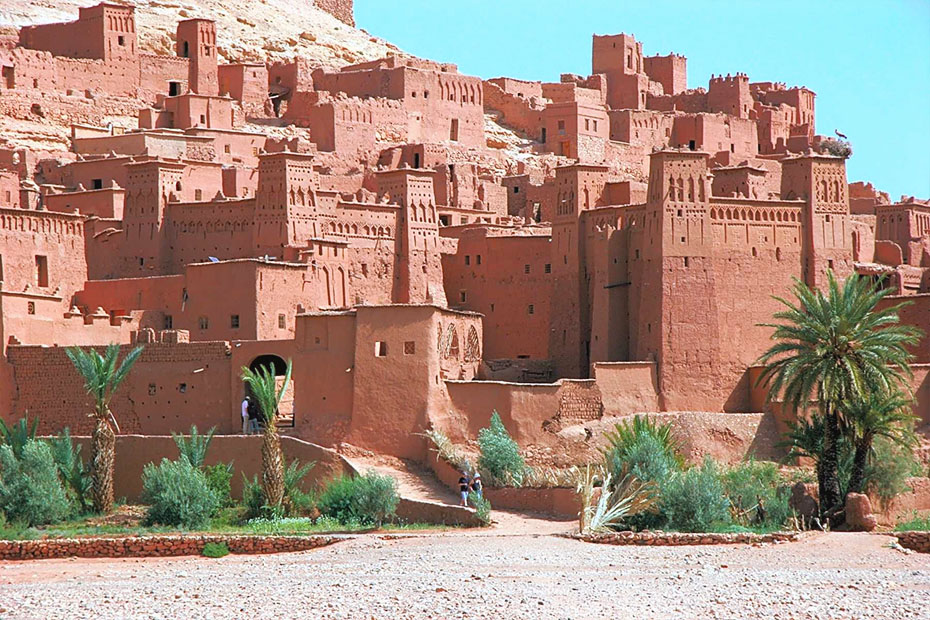 It's really a fact. Morocco is known as the African Hollywood. Many American movies have been filmed in Morocco. Especially in Ouarzazate. But there are not only movies but even worldwide famous series such as Game of Thrones and season 5 of Prison break that has been filmed in Morocco!
Also, if you didn't know, even a  part of Mission impossible 5 movie was filmed in Morocco!
 Read also: Martin Scorcese and his love for Morocco…
22. Tbourida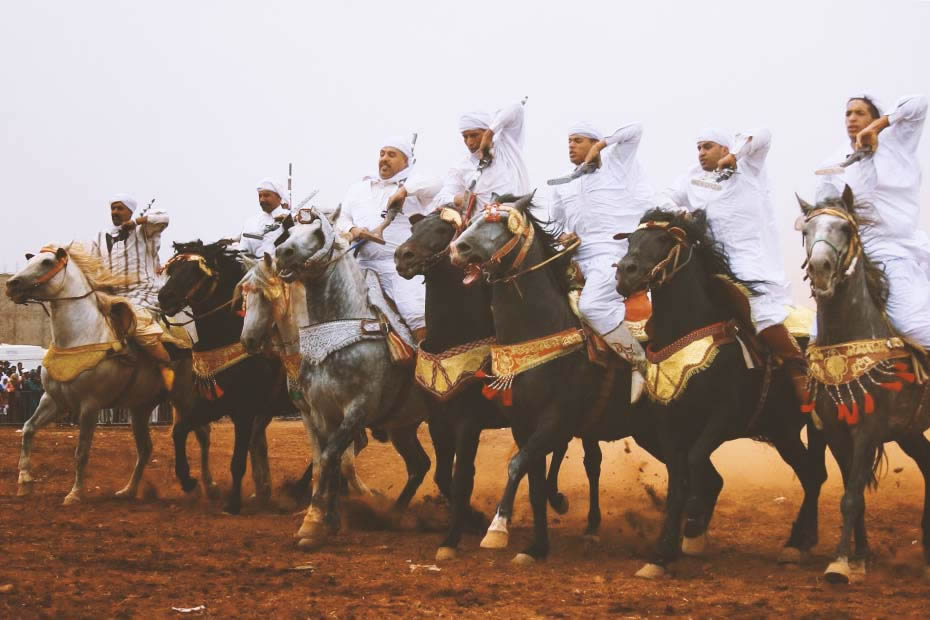 The "tbourida", whose name in Arabic dialect is derived from baroud which means gunpowder, "embodies the traditional Moroccan equestrian art that dates back to the thirteenth century.
It is a reenactment of a cavalry charge of Arab and Berber warriors, which ends with a synchronized firing, in a deafening detonation and the pungent smell of gunpowder.
Historically, the tribes celebrated their victories with the "tbourida", showing their equestrian know-how, the handling of the rifle, the beauty of their harnessing. It was a kind of military parade.
The war is over today. But the ritual has remained, traditionally associated with festivities in the countryside.
23. Moroccan clothing including Djellabas

Morocco is a country rich in history, traditions, people, culture, religion, climate, geography, and more. Each of these aspects of the country influences the way Moroccans dress. Among the wide variety of clothing in Morocco, we find the djellaba and the caftan, two refined garments that evoke the country's luxurious style of dress.
If you walk through the streets of any city in Morocco, you will certainly see some men and women wearing long, loose hooded dresses over their normal clothes. This garment is called the djellaba. It covers the entire body except for the head, hands, and feet.
The women's djellaba is different from the men's djellaba in its style and purpose. Women wear a jellaba for different reasons. First of all, it is a very comfortable and aesthetic garment. Secondly, it is a modest garment to wear in a Muslim country. Some women accompany it by wearing a scarf around their neck or head. It is also worn when visiting families during religious holidays.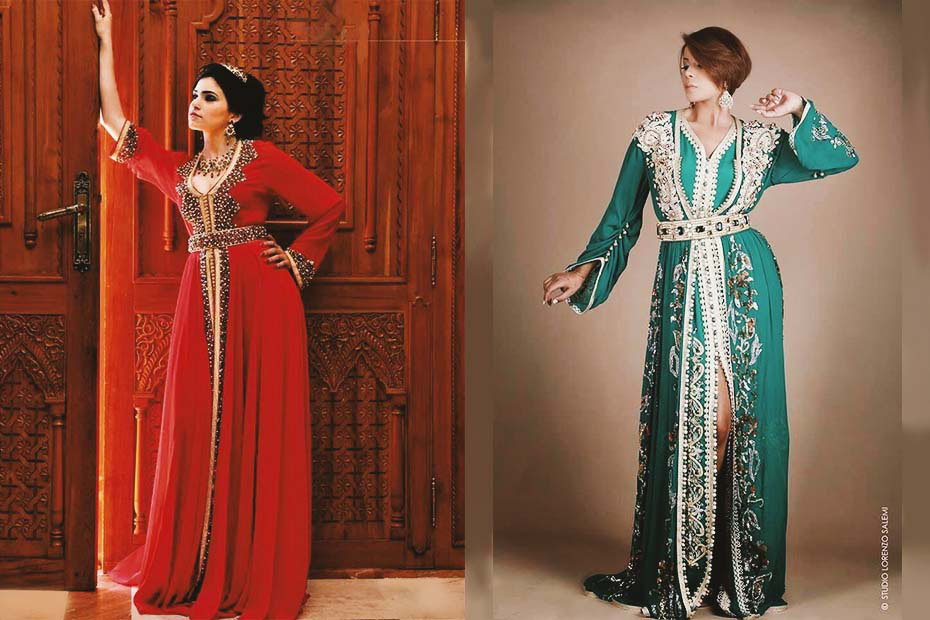 Morocco is also well known for its beautiful caftan as you can see in the picture above. They are known and especially praised in the Arab world!
It is a very traditional and stylish feminine dress, beautifully embroidered and decorated with jewelry and a matching belt around the waist. Caftans have become an essential part of Moroccan culture, usually associated with festivities and symbolizing the elegance, class, and glamour of the country.
The Moroccan caftan can be divided into four categories: Rbati, Meknassi, Chamali, and Fassi, which refer to the regions where the specific styles originate.
Learn more: What to wear in Morocco: the complete guide for all Western travelers
24. Nice, warm, and welcoming people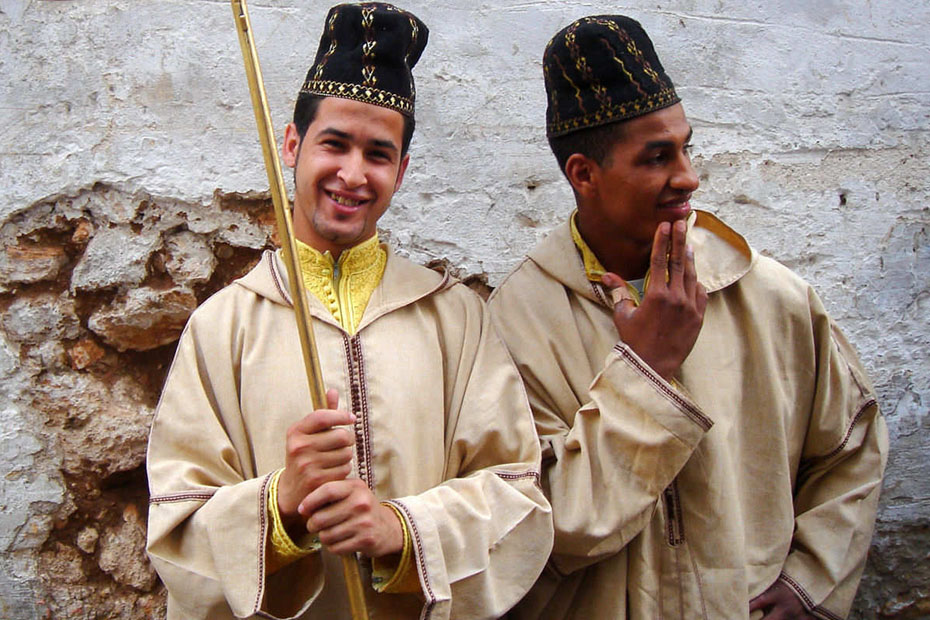 Moroccans are very welcoming people by nature. If tourists make Morocco a destination for their vacations, it is also because of its people. Moroccans are very welcoming and kind people and this is one of the reasons why Morocco is one of the most appreciated tourist destinations.
The Moroccan people love to share their joy and take care of their relatives and entourage in general, even in the neighborhoods. There will always be someone ready to help you with any task.
25. Beaches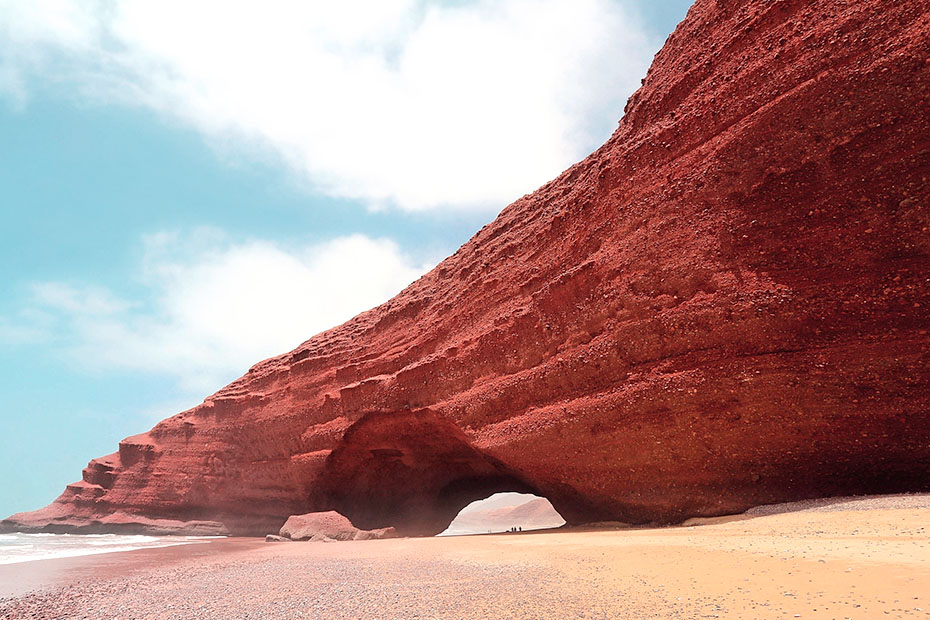 You can enjoy more than a thousand kilometers of coastline to find your ideal beach and allow yourself a little rest without thinking about anything: Morocco is a dream destination for a vacation full of sun and relaxation. You can sunbathe, refresh yourself in the crystal clear water and the landscapes are sometimes breathtaking.
Read also:Top 10 of the most beautiful wild beaches in Morocco!
26. The world's first university- University of Al-Qarawiyyin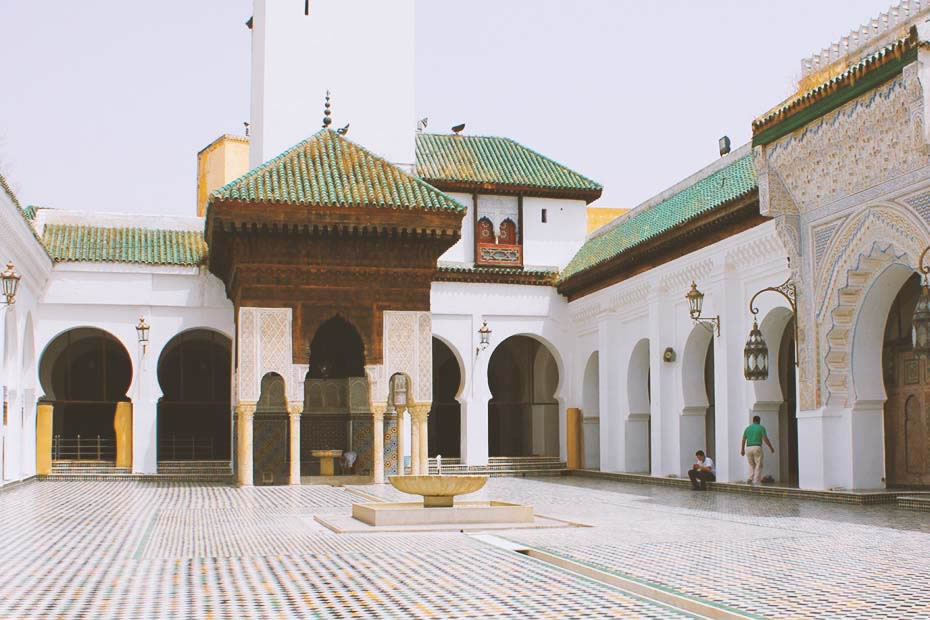 Did you know that the first university was founded in Morocco? Well, yes, it really is, and this may be surprising to many people because they wouldn't think that there is more to Morocco than the desert and camels.
Al Quaraouiyine University in Fez is considered the oldest in the world by UNESCO, the Guinness Book of Records, and many historians. Still, in operation, its construction was initiated in 859 during the reign of the Idriss dynasty. It has seen the passage of great Arab philosophers such as Averroes (Ibn Rochd) and Avempace (Ibn Baja).
27. Music and dance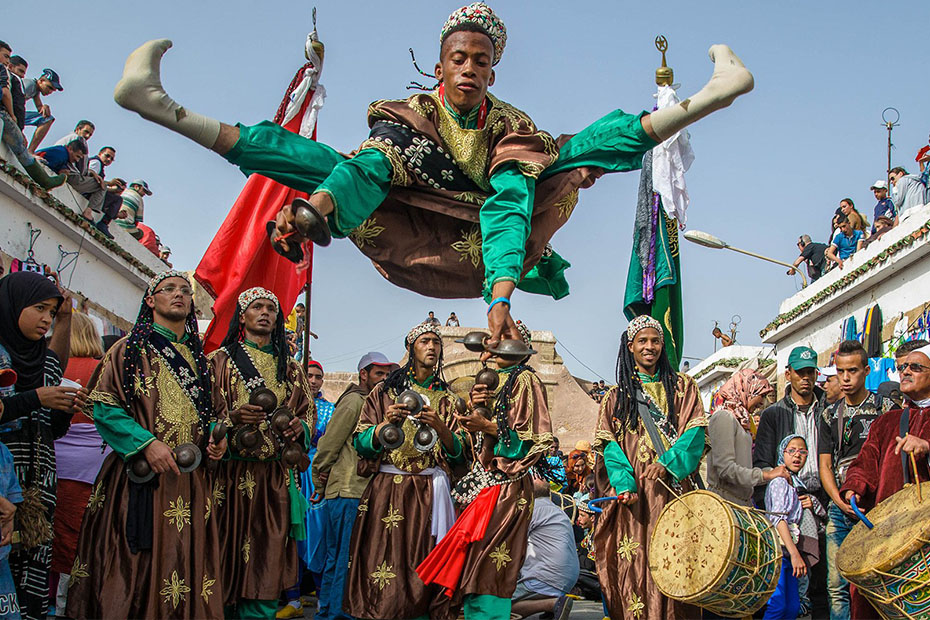 Kind people, best foods in the world, but what about music and dance? Morocco is known for a lot of its music festivals like Mawazine, Tanjazz,  the Gnaoua World Music Festival, and more.
You should know that each region of Morocco is known for its own type of music. The young generation now also listens to modern music of course on the radio without forgetting that Morocco has also its young famous singers. Here below is a clip of Will Smith dancing to Moroccan music in Morocco.
Read also:Discover 7 famous personalities having a blast in Morocco while dancing to Moroccan music!
28. Roses and rose water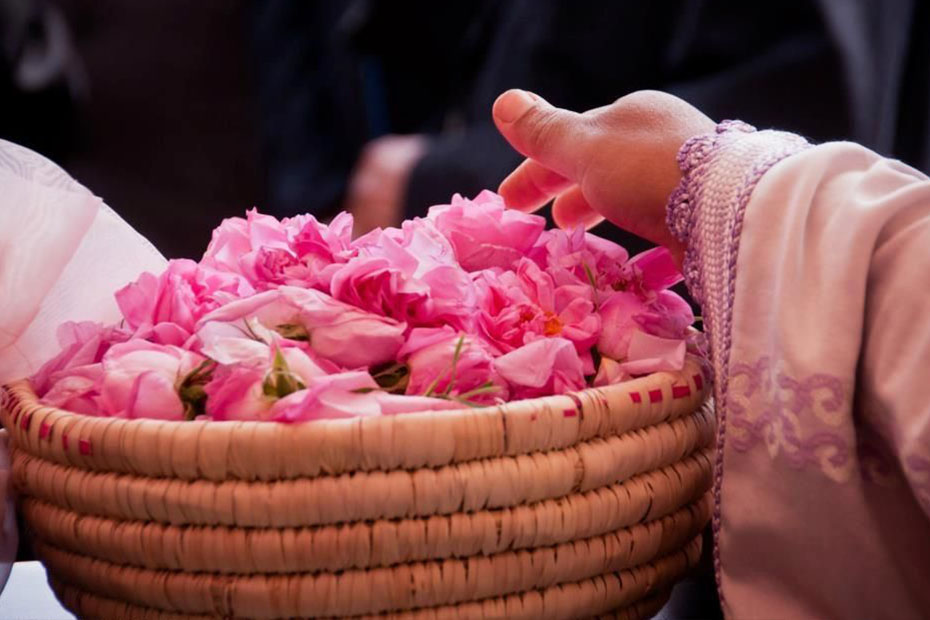 The Moroccan rose (Rosa damascena) is the national flower of Morocco. It is a shrub growing to 3–5 m tall, with prickles and hairy leaves. The flowers are produced in late spring and early summer, in clusters of five to fifteen together. The petals are pink or red, and the stamens yellow.
The oil extracted from the flowers is used in perfumery, and the water extract is used as a refreshing drink and in traditional Moroccan cuisine. Rose water is also used as a skin toner, and to scent other cosmetics.
29. Saad Lamjarred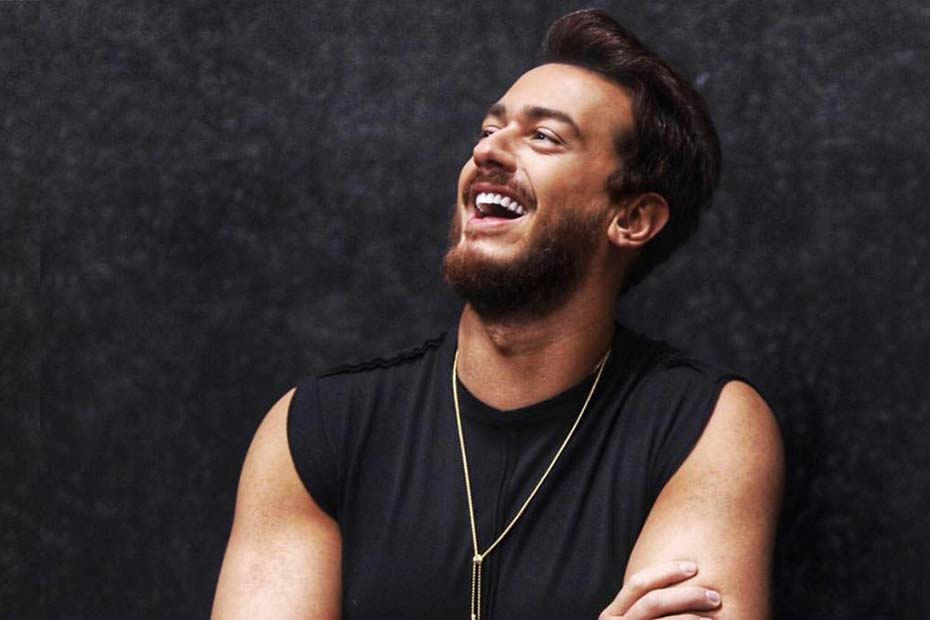 Saad Lamjarred is a Moroccan singer. He began his music career in 2006, and has since become one of the most popular singers in the Arab world. His songs are often about love and relationships, and he has been described as the "king of romance" in the Arab music world.
30. Simply to amaze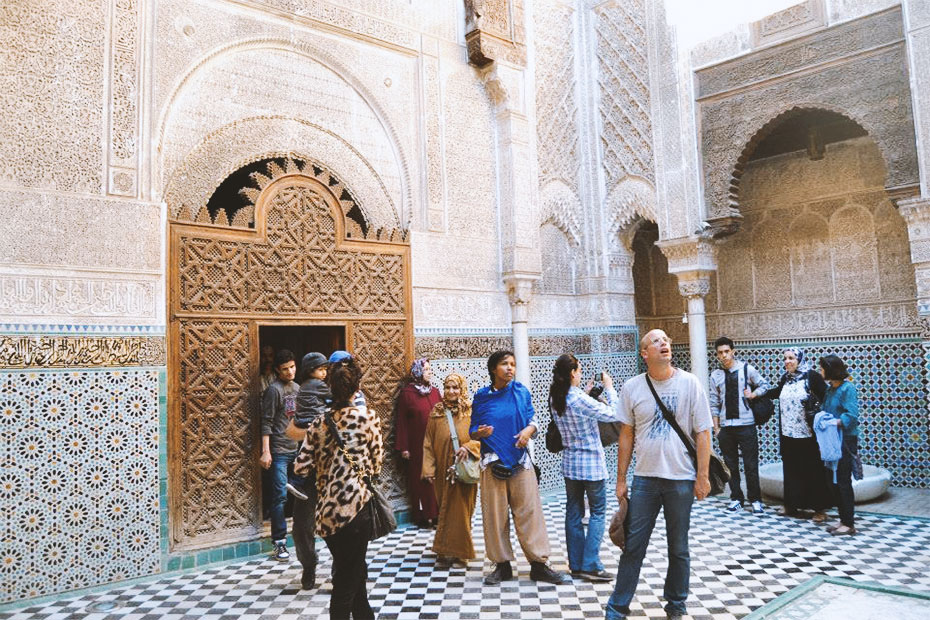 Morocco is known to amaze. Many people are always surprised when they come to Morocco. They never imagined that Morocco was such a developed, unique, warm and beautiful country. Once they discover Morocco at its true value, they fall in love with its charm and simplicity of life and they always want to come back!
What is the one thing that Morocco is the most famous for?
Morocco is known for its food, architecture, and the variety of cultures that reside there. As said above, one of the best gastronomy in the world is Moroccan cuisine which is loved by so many.
In conclusion
A lot of people are curious to know what is Morocco known for? Compared to many countries, Morocco is known for numerous things. It is not only known for its Sahara desert and its's delicious couscous and tagines. Yes, it is famous for its camels and its fine sand. Yes, it is famous for its food, but Morocco is much more than that. A lot of people haven't even heard of Morocco before the movie Casablanca which by the way doesn't show the real Morocco and wasn't even in fact filmed in Morocco in the first place.
All of this to say, that Morocco is a country that has not been yet discovered at its true value. Underestimated even by some of its inhabitants, Morocco needs justice. Many people are misinformed about this beautiful country with its unique and special scenery, its delicious food, its history, its traditions, its tourist sites, its warm and friendly people, and the list goes on and on.