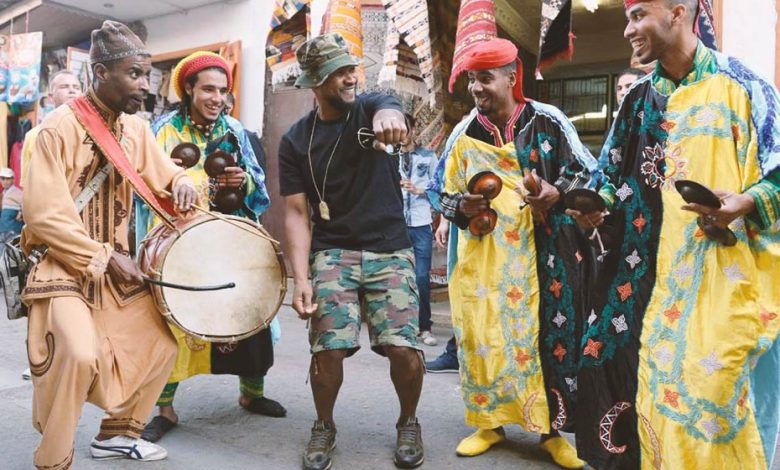 Morocco has hosted several well-known personalities in its country. Many of them fell in love with its magical vibe, its charming hospitality, and its warming sun. Here in this article, you're going to discover 7 famous personalities having a blast in Morocco while dancing to Moroccan music!
Will Smith
In a video, the Hollywood star, Will Smith was dancing to Moroccan Music. The famous actor who was visiting Marrakech in 2017, not only took advantage of his stay in Morocco to visit several cultural places and meet Moroccan artists like Hassan Hajjaj, but he also allowed himself a dance with a Gnawa group.
Will really enjoyed his stay in Morocco while dancing to the Moroccan rhythms "Gnawa" beside of the Moroccan rapper Komy and the famous Moroccan actor Omar Lotfi. At first glance, Will Smith gives the impression of being conquered by the Moroccan culture. We can all tell that he had a great time in Morocco!
Shakira
In 2011, The Lebanese Colombian singer Shakira had made a remarkable visit to Morocco where she performed for the first time in this beautiful and unique country, at the famous Mawazine festival, in Rabat, where thousands of people came for the occasion to see her.
Known to be a really good dancer, Shakira took the opportunity to give an amazing performance with her Bellydancing to Moroccan music. Here below is the full performance but you can see her "at work" at 2:22.
Madonna
After celebrating her 60th birthday a few days ago in Marrakech, the American superstar Madonna celebrated in 2018 the 13th birthday of her son David. A celebration in the colors of Africa, which the diva did not fail to share on social networks. After posting a video of her on Instagram, the Queen of Pop can be seen dancing to the rhythms of Gnawa music, accompanied by her twins Estere and Stella, not forgetting David, who was adopted in Malawi in 2006.
Never ceasing to show and share her love for Morocco Madonna keeps on winning the hearts of Moroccans.
Usher
Before his show at Mawazine in 2015, in Morocco, the RnB star, Usher, took the opportunity to relax and go sightseeing. Sometimes wandering through the streets of the capital, visiting the Mohammed VI museum or sketching out a few dance moves with a Gnawa group. A great promotion for Morocco!
Wentworth Miller
Wentworth Miller, also known for it's acting name of Michael Scofield, was present in Morocco in 2016 for the shooting of the American series "Prison Break" in Ouarzazate. This famous American actor succumbed to the Moroccan hospitality and was spotted and filmed dancing with locals in a tent. An opportunity for Wentworth Miller and his comrades to get to know the local culture.
Ivanka Trump
Ivanka Trump and advisor of the U.S. President Donald Trump, came to Morocco in 2019 to promote the country's Women's Global Development and Prosperity (W-GDP) Initiative. A program that aims to help economically empower 50 million women by 2025.
On a video that has been widely shared and seen on social networks, Ivanka appears, smiling and dancing to the Moroccan rhythms called "Dakka Marrakchia" at an event. Dressed in a white tunic, Trump's daughter was happy to discover Moroccan folklore, much to the delight of the audience.
French Montana
Proud of his Moroccan origins, Karim Kharbouch alias French Montana can't hide his love for Moroccan music, especially "Moroccan Chaabi". The famous rapper who immigrated to the United States with his family at the age of 13 is definitely a huge star in the USA that can help beeing Moroccan?! Watch this short video below of him dancing to Chaabi music.