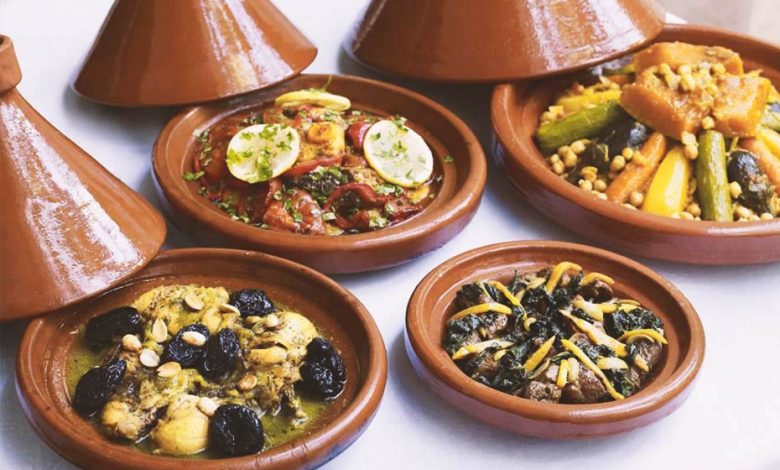 The influences of the different cultures present in Morocco (Amazigh, Arabic, Andalusian, etc.) make Moroccan cuisine one of the richest in the world. This is how it was ranked 2nd best gastronomy in the world in 2014 by WorldSIM Travel Blog.
Read also: The Best tagine recipes from Morocco with step by step videos to follow along!
Couscous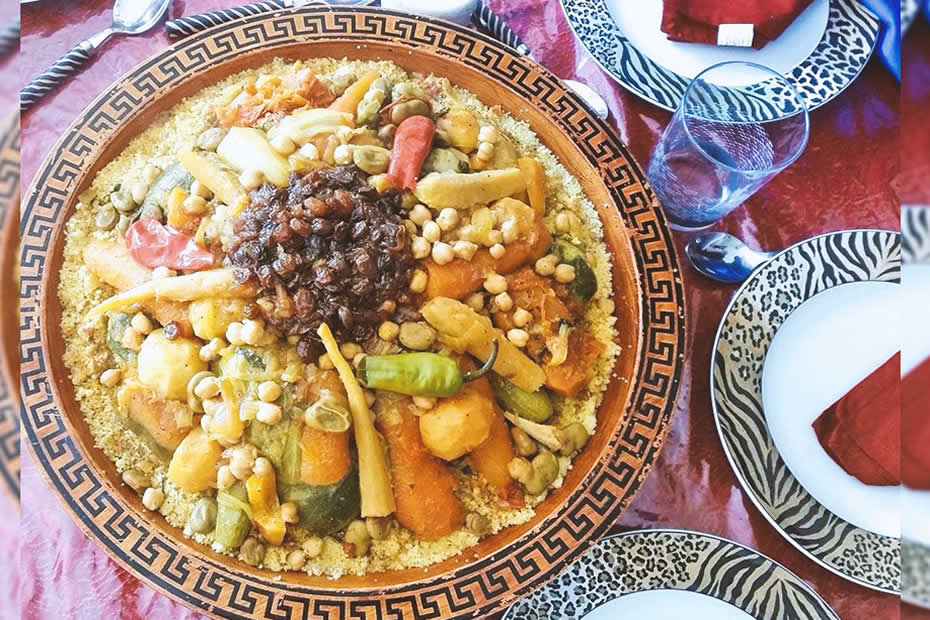 Whether it is with seven vegetables or with onions and dried fruits, Moroccan couscous remains one of the most common dishes of the Moroccan family and is generally prepared on Fridays. The preparation requires a certain technicality since the very hot semolina is handled by bare hands and must be mixed three times. A delicious Moroccan dish.
Tajine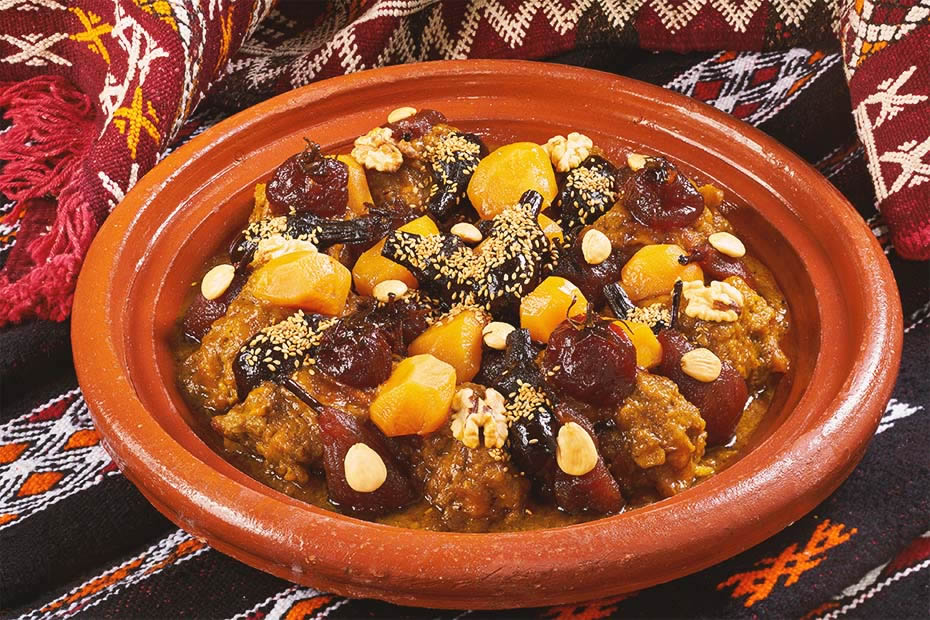 This specialty is named after the clay plate in which the dish is cooked. This dish is a kind of meat, chicken, or even fish stew that can be served with vegetables or dried fruit. Spices are essential to the success of this dish, which is cooked, as said before, in the dish called "tajine". For vegetarians, there is the Berber tajine which contains no meat. What is impressive about this dish is that it can be an everyday dish, there is no one way of doing it, it is very economical, or for more special occasions. You can learn here how to prepare a tagine with these best tagine recipes from Morocco. Learn by following step-by-step videos! You can learn here how to prepare a tagine with these best tagine recipes from Morocco. Learn by following step-by-step videos!
Read also: Best cuisine/food in the world: Which country has the best food in 2020?
Harira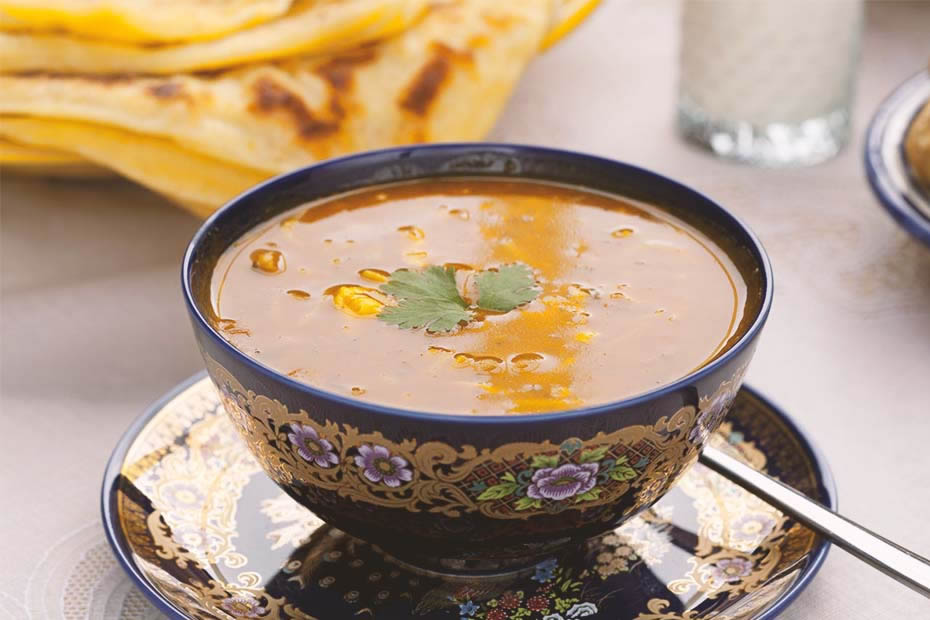 This soup called harira is traditionally the dish that everybody eats daily after the breaking of the fast during the month of Ramadan. Made of chickpeas, lentils, onions, and meat, it is very rich and nutritious, allowing you to recharge your batteries after the fasting day. Harira is usually served with dates and small pastries.
Briouate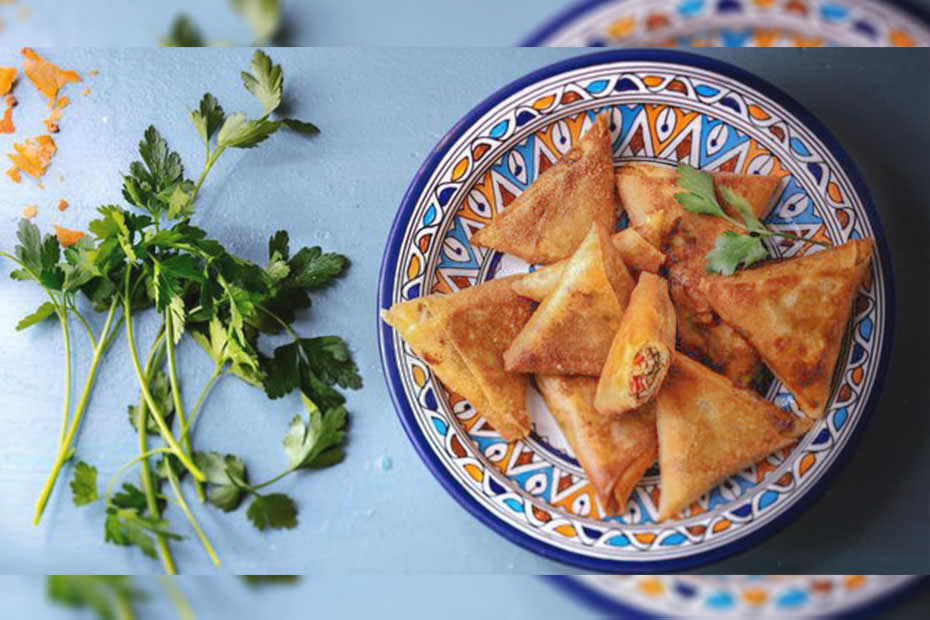 Served as an appetizer or as a side dish, these small triangular pastries called "briouate" are a must during the Ramadan period.
Mainly made of a filling (of either ground meat, chicken, or fish for the salty version or chicken for the sweet version) put in brick pastry sheets rolled in order to obtain these small triangular shapes as you can see on the picture above.
The briouates can also be rolled into cigar shapes, depending on the person's preference. However, it is important to know that they are better known, put, and served in triangular shapes.
Pastilla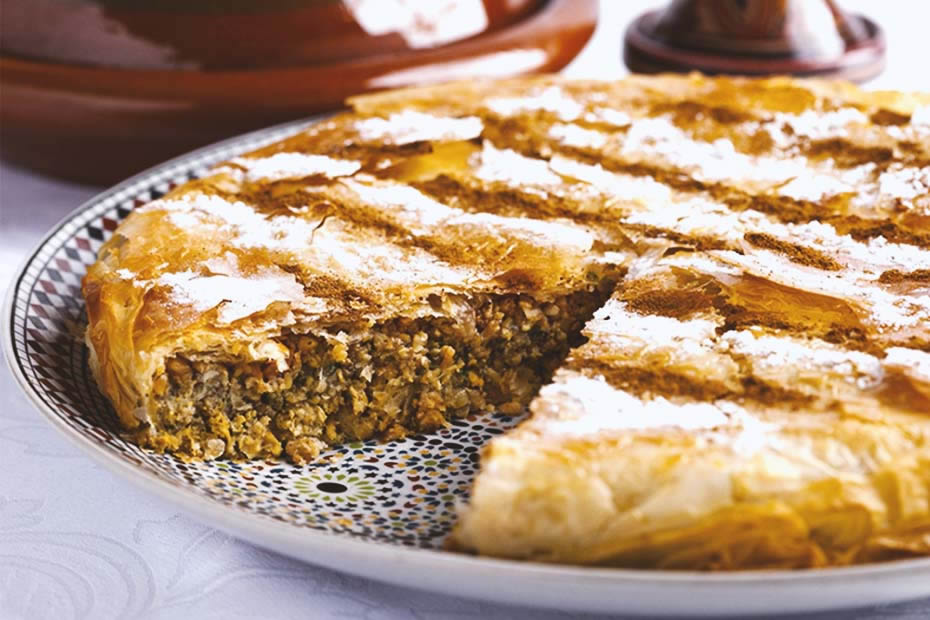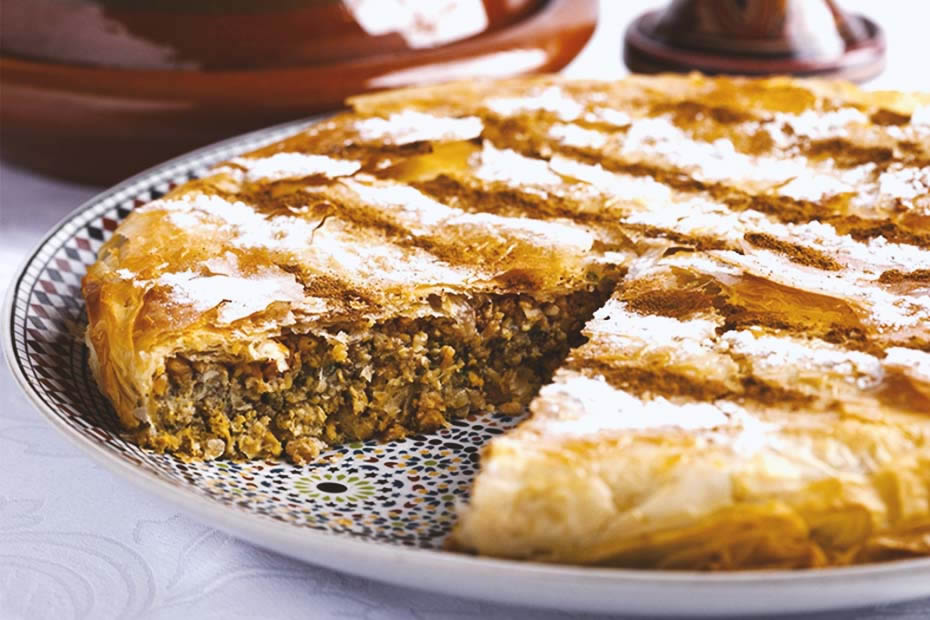 This dish is undoubtedly the emblem of Moroccan parties and celebrations. The traditional recipe is prepared with pigeons, but depending on the preferences, chicken can be used. For those who love sweet and sour, this Moroccan dish will certainly please them. The brick pastries also called "warka", are used as containers and are stuffed with almond stuffing. Cinnamon and orange blossom water are required, powdered sugar is used to decorate the dish. For those who prefer salty, there is a fish version of this dish.
Mechoui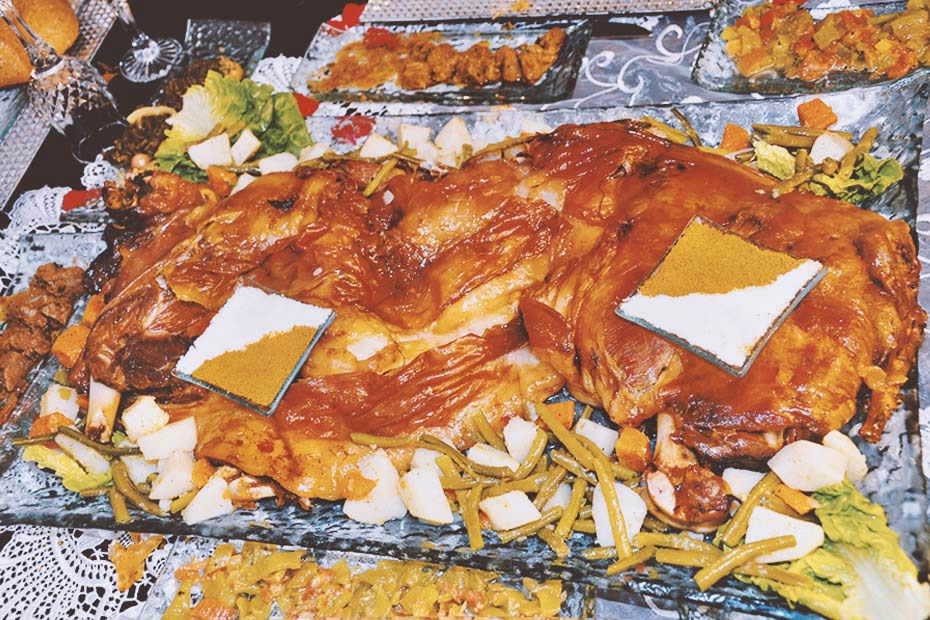 It is in an earthen oven that Moroccan women used to cook the leg of lamb. It is a princely dish, prepared for a special occasion such as a wedding (in this kind of event you can use all the lamb). Leg of lamb is usually served with an assortment of salads or roasted or grilled vegetables. Cumin is an essential ingredient in this dish that will delight lamb lovers.
Rfissa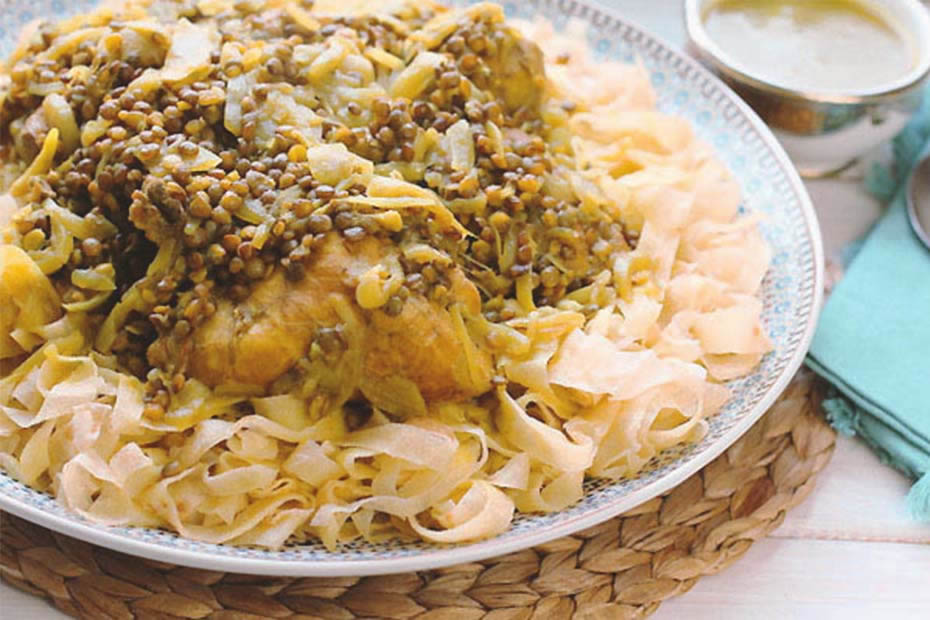 It is a dish commonly prepared on the 3rd or 7th day of a birth. The msemen is torn into bite-size pieces and drizzled with a chicken sauce topped with lentils and fenugreek (halba). Coriander, saffron, and ginger are a must for this recipe. This dish can also be made by replacing the msemen leaves with what is called "trid".
Seffa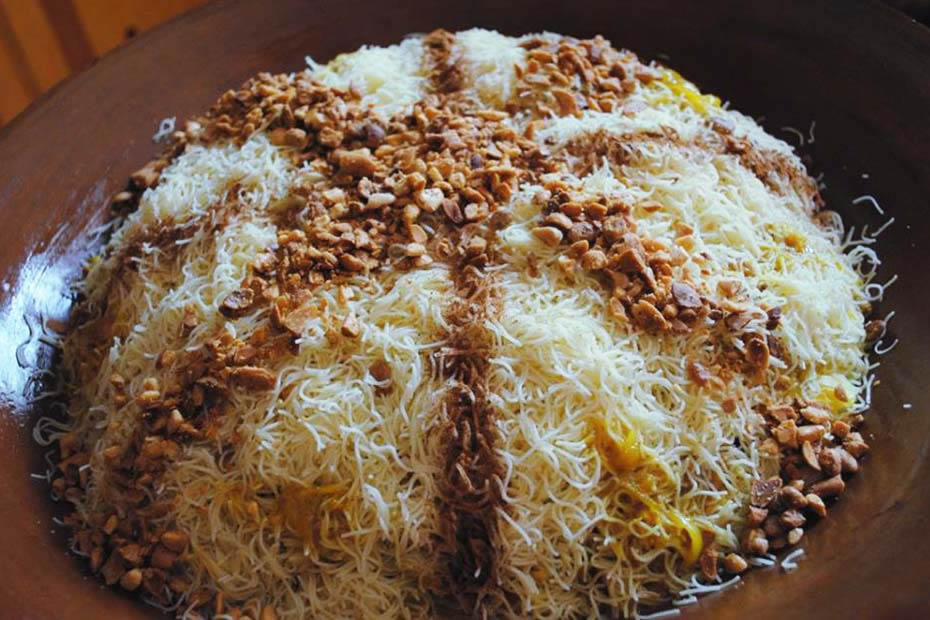 Whether it is broken vermicelli, angel hair pasta or simply semolina, sweet or salty, this recipe is a must in every Moroccan family. It is a real treasure hunt that is proposed to us by the seffa. Indeed, the garnish is in the center of the dish, so you have to find your way through this mountain of pleasure. Dried fruit, cinnamon, and powdered sugar are used to decorate the dish.
Tanjia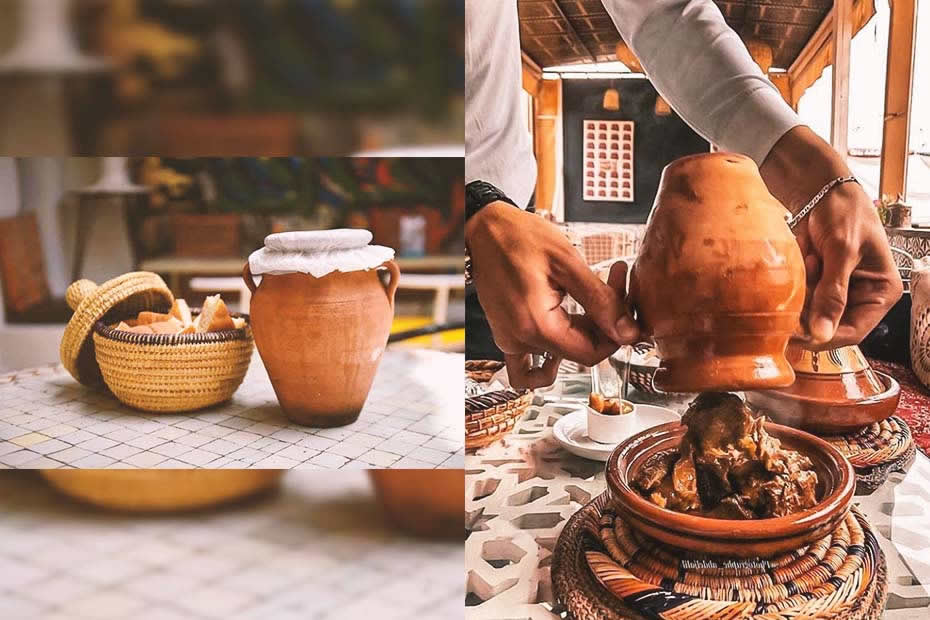 We couldn't have done an article without mentioning Tanjia Al Marrakchia. This local specialty from Marrakech is named after the clay pot in which the dish is cooked. Tanjia is, therefore, a dish that is traditionally prepared by putting the pieces of lamb or veal in the clay pot that is sealed with paper and tied over the neck with a string or wire. Depending on preferences, some spices are added more or less, and it is left to cook long hours by beeing tucked into ashes of a fire. One of the particularities of this dish is that its preparation is generally given to men.