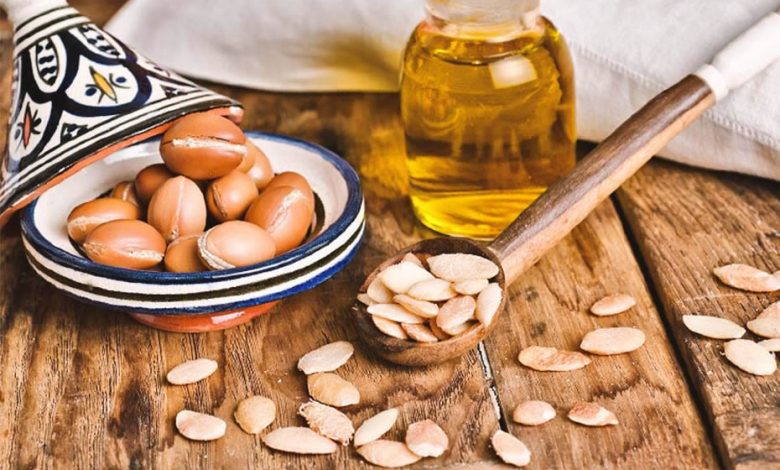 Moroccan argan oil comes from the kernels found inside the nut present in the heart of the fruit of the argan tree only in Morocco. Argan oil is the result of a long process of artisanal production, now in the industrial process. It takes nearly 40 kg of fruit and hours of work to produce 1L of Moroccan argan oil! It is definitely a precious cosmetic and edible product like for example Moroccan rose water. -More
How is Moroccan argan oil made?
It is after a long and complex manufacturing process that argan oil is obtained. This "know-how" is not given to everyone and requires knowledge that is passed on from generation to generation in the regions of southwest Morocco.
There are several steps… -More
Is there more than one type of Moroccan argan oil?
Yes, there are two argan oils:
cosmetic argan oil
culinary argan oil 
The difference between them lies in the way the kernels produced by the fruit of the argan tree have been processed. If it is cold-pressed, it will produce cosmetic argan oil with a lighter color and a low odor. If the kernels are roasted then presses, we obtain edible argan oil. -More
How to use Moroccan argan oil?
Argan oil is widely used as an anti-wrinkle and to fight against skin ageing. It limits the appearance of brown spots and reduces them if necessary. It is recommended for the prevention of stretch marks in pregnant women. It is particularly suitable for dry and sensitive skin, mature skin. It is also used in case of severe flaking, acne, burns and chapped skin for its healing action. It is also a hair tonic. -More
When to use Moroccan argan oil?
For facial treatments:
Apply a drop of oil every evening to a perfectly cleansed face and neck.
Do not use argan oil during the day outside (you will burn your skin in the sun).
For nail care:
To strengthen soft and brittle nails, wash them better and then soak your nails in a mixture of lemon juice and argan oil in equal parts 15 minutes, once a week.
For body care:
To prevent the skin from drying out, apply Moroccan argan oil on your body 45 minutes before taking a bath or shower.
-More
Moroccan argan oil for hair?
Moroccan argan oil is ideal for repairing damage caused by chemical treatments and dyes by reducing protein loss, and therefore also helps to fight hair breakage. Argan oil is also an effective way to keep hair hydrated and reduces inflammation and irritation of the scalp. -More
Moroccan argan oil on wet or dry hair?
The first question to ask yourself is whether to apply argan oil to dry or wet hair. Definitely on dry hair.
Applying oil to damp hair (even a little bit) will require too much effort and time to get rid of the residue it leaves behind and shampoos, even neutral ones, will be too numerous. On dry hair, on the other hand, the oil will penetrate the hair deeply, hydrate it intensely and the residues, once the application time is respected, will leave much more easily. -More
Moroccan argan oil for beard?
Whether on hair or beard hair, Argan oil is an excellent ally.
It is perfect for beards with dry, brittle or damaged hair. By nourishing them deeply, it gives them shine and above all, makes them much softer. This is why beard oils containing Argan oil is considered as soothing oils for the beard. -More
Moroccan argan oil for body, skin, and beauty?
The extreme conditions of the Berber women's environment (heat, wind…) led them to use argan oil as a beauty cream and body lotion to fight against the drying of the skin. Because it is naturally antioxidant and full of fatty acids, this "liquid gold" not only activates cell regeneration but also deeply hydrates the epidermis and restores its hydrolipidic film (a mixture of water and fat that helps to maintain the level of hydration). -More
Moroccan argan oil used for lips?
Whether you have dry and chapped lips or simply want to have pretty lips, argan oil is made for you. Argan oil has so many virtues that it also works effectively for lip care. -More
Is Moroccan argan oil good for dark circles?
If you have dark circles related to an exhausting day or night, you can apply Moroccan rose water, which is well-known, but you can also apply a few drops of argan oil to the eye contour area, then gently pat the congested areas with 2 fingers for about ten seconds. The penetration of argan oil into the epidermis, facilitated by this anti-fatigue drainage manipulation will allow you to reduce your dark circles, relax your facial features and restore a new glow, a "healthy glow". -More
Moroccan argan oil for acne?
Unlike many unnatural treatments designed to fight acne, but which in the medium and long term cause more damage than they repair on the face of the affected individual, argan oil makes it possible to fight this disease in a natural way and thus, allow all these unsightly traces to disappear. -More
Is Moroccan argan oil used for pregnancy?
For expectant mothers, know that Moroccan argan oil relieves, soothes, moisturizes, protects and nourishes the skin. It preserves its elasticity, restores its hydrolipidic film and prevents skin aging. In short, you will have understood it, it is undoubtedly one of the best allies of your skin during pregnancy! – More
Does Moroccan argan oil help for weight loss?
As part of a diet, if you are healthy and your body works well, you can lose weight faster. Argan oil does not "strictly speaking" cause weight loss and slimming, but its properties rather help in weight loss. Indeed, consuming it helps to stabilize hypercholesterolemia. More precisely, Moroccan argan oil will increase the level of good cholesterol and decrease the level of bad cholesterol. It would also have an appetite-suppressant effect, which is very helpful during a diet. –More
Does Argan oil protect against cardiovascular diseases?
In Morocco, for centuries, argan oil has been consumed to prevent cardiovascular disease. Many studies have shown that this oil reduces cardiovascular risk because it plays a role in blood pressure, plasma lipids and antioxidant status. It also has anticoagulant properties, which is important in the prevention of heart disease. -More
Does Moroccan argan oil help to treat psoriasis?
Thanks to the richness of argan oil (especially in unsaturated fatty acids, very precious for treating this disease), it is possible to instantly stop itching following one application, as well as to contain flare-ups that could develop towards other body parts of the sick patient. By applying argan oil twice a day to the areas affected by psoriasis, you nourish your skin with all the ingredients it needs to be healthy, allowing it to resist diseases such as psoriasis and regain its natural elasticity. -More
Does Moroccan argan oil treat eczema?
Few people know the benefits of argan oil to treat eczema effectively!
Whether "atopic" or "contact" dermatitis, eczema causes redness and itching in the individual with eczema. It is to treat these symptoms that argan oil is particularly effective. -More
Is Moroccan argan oil good for burns?
Among the many benefits of argan oil, we can also mention its ability to relieve and treat small burns or sunburn that we often experience. Due to its concentrated content of polyunsaturated fatty acids and vitamin E, the application of argan oil after one of these burns acts as an excellent moisturizing product, protecting the affected skin and allowing it to heal quickly and recover all its elasticity. -More
Is Moroccan argan oil used for tanning?
Argan oil allows you to tan faster and keep your tan longer.
It is necessary though to take into consideration that oils do not capture UV rays so be careful! Now if you have "yellow-brown" skin, argan oil makes tanning easier, but under no circumstances is it recommended if you have sensitive, pale skin! – More
Can you cook with Moroccan argan oil?
Composed mainly of monounsaturated fatty acids, it can theoretically be used for soft cooking. But given its price (high!) and its delicate flavor, it is worth using it raw. Traditionally, in Morocco, it is enjoyed on bread, and seasoned with salads, soups, grilled vegetables, fish, tajines, couscous semolina… Mixed with honey and almonds, it is made into amlou, a spread that is served for breakfast on "Moroccan pancakes" or bread. -More
Moroccan argan oil versus other products
Is Moroccan oil and argan oil the same thing?
Moroccan oil is the same as argan oil. However, there is a difference because Moroccan oil contains many supplements such as silicone or aloe vera. For this reason, the supplements make Moroccan oil-less pure than argan oil. -More
Moroccan argan oil vs castor oil vs coconut oil
Moroccan Argan, castor and coconut oils are three natural and beneficial oils for hair. They all provide many nutrients and can be used on all hair types. Whether they are brittle, damaged and dry, or on the contrary very greasy, vegetable oils can help us to recover radiant, shiny and healthy hair. Frizzy, afro and very curly hair will be more oriented towards castor and coconut oil.  As for Moroccan argan oil, it is considered as a precious oil in cosmetics. -More
Moroccan argan oil vs keratin
Keratin is a natural protein that constitutes 97% of the main raw material of hair.
Moroccan Argan oil, on the other hand, is rich in vitamin E, has great regenerative properties: it promotes the cellular renewal of the scalp and stimulates the production of keratin for visibly stronger and thicker hair. The hair is stronger, shinier and thicker. -More
Moroccan argan oil vs rosehip oil
80% of the composition of the two types of oils is practically the same: they are composed of unsaturated fatty acids (essential for the body), such as oleic and linoleic. They are also rich in vitamin E.
However, 20% differs like for example… – More
Moroccan argan oil vs marula oil
Argan oil is extracted from the nuts of the argan tree which is an endemic tree of Morocco this oil with a thousand virtues is used in cooking, cosmetics and even in medicine. Marula oil, which is an oil also produced in Africa as well as in the sub-Sahelian part of West Africa where the Marula tree grows, is a bit like the new Argan oil of the moment. It is believed to have many beneficial properties for the skin, including anti-aging. -More
Moroccan argan oil vs macadamia oil
Moroccan argan oil has the benefits that macadamia oil has. Macadamia oil protects the skin and hair, especially against UV rays. Regenerating, nourishing and healing, it helps to deal with problems such as stretch marks, which it reduces and chapped skin. Finally, it contains antioxidants, which help to fight. -More
Moroccan argan oil vs jojoba oil
As such, one cannot say that one of these oils is "better" than the other. They both have many exceptional properties to take care of hair or skin, which justifies their popularity today. They have a lot in common. The choice of one or the other will depend on each hair type: some will prefer argan oil, while others… -More
Where to buy Moroccan argan oil?
If you are a foreigner, the purchasing preference is based on the Internet, because not only is the choice particularly wide, but you also have the opinions. Of course, you can find this oil in specialized stores and large chains, especially in Morocco. -More