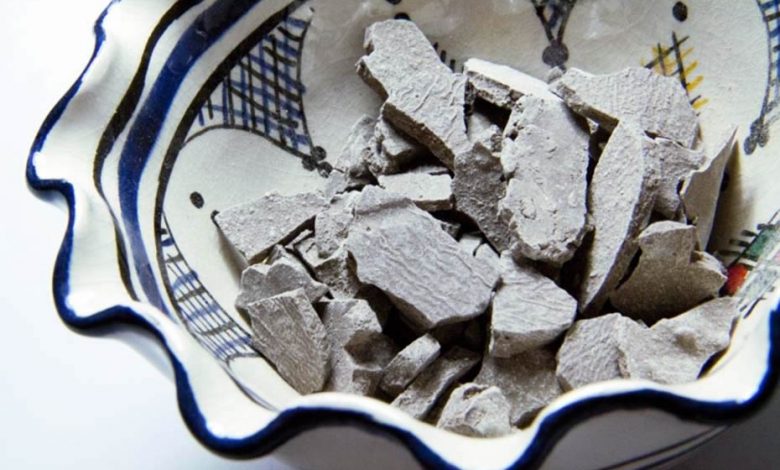 Rhassoul, also known as ghassoul, is a natural, mineral and volcanic clay found only in Morocco, in the Middle Atlas region, a mountainous massif in North Africa. It is one of the only beauty cosmetic products so much loved and desired that comes only from Morocco like Moroccan argan oil. Rhassoul comes from the pronunciation of the name Ghassoul, itself from the Arabic name ghassala meaning "to wash". It is rich in Iron, Potassium, Magnesium, Silicon, Sodium, Pro-vitamin and Trace elements.
This powder has been sold in the Middle East since the Middle Ages. It is a natural ingredient typical of the oriental tradition, used in beauty for body and hair care. You can find it in hammams in the same way as black soap and Kessa which is a traditional Moroccan glove. -More
How to use Moroccan rhassoul?
Moroccan rhassoul for skin?
Moroccan rhassoul is very good for the skin. It is very useful to remove dead cells, balance the epidermis, tighten pores and leave the skin very soft and velvety. It also stimulates cell renewal and is therefore very effective in the treatment of skin diseases such as acne, psoriasis or eczema. Not only is it really effective it is also suitable for all skin types, whether sensitive, dry, mixed or oily. -More
Moroccan rhassoul for hair?
Moroccan rhassoul is an excellent cleaner and degreaser for hair. It, therefore, acts as both shampoo and hair care products. Many use it as a no-poo hair wash… -More
Morocco rhassoul clay as a mask?
Whether you decide to use it on the skin, hair or face. Moroccan rhassoul clay mask is one way to enjoy all the benefits that this amazing Moroccan clay provides. -More
How to make and prepare Moroccan rhassoul?
To make and prepare Moroccan rhassoul you will need to place the rhassoul, in powder or platelet, in a container. Then dilute it in a little warm water. Use a non metallic bowl and spoon when mixing. The consistency of the rhassoul must be creamy and smooth, be careful not to add too much water. Mix until a homogeneous paste is obtained. Rhassoul is prepared very quickly. It is possible to replace water with rose water or orange blossom water for a perfumed skin. For dry skin, a little sweet almond oil, argan oil or olive oil can be added to rhassoul. -More
What are Moroccan rhassoul benefits?
Rhassoul or Ghassoul is a natural product with multiple virtues on the skin, but also on the hair.
Here are some of the Moroccan rhassoul benefits:
Softens skin and hair
Helps against sweating
Helps to remove dandruff
Good for foot care and dry heels
-More
Where to find Moroccan rhassoul?
The best Moroccan rhassoul is of course found in Morocco, but you can still find it on the internet where the choice is wide like on: Amazon, Etsy, eBay, Walmart, etc. -More