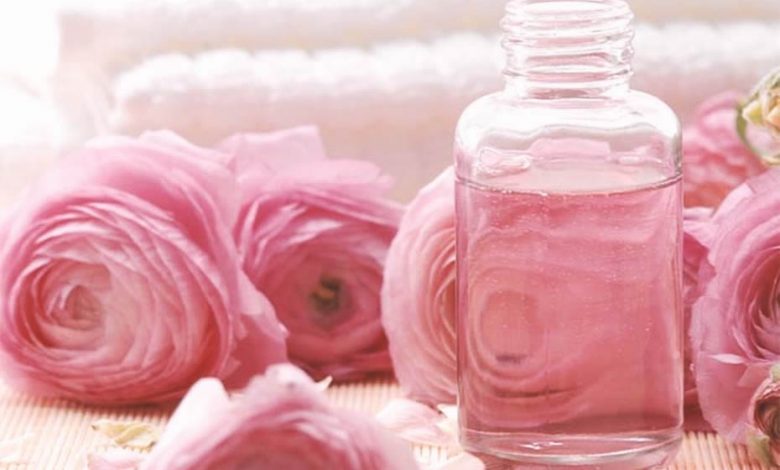 The rose has always been glorified by poets and writers and its unique fragrance has elevated it to the rank of queen of flowers. Its sweet and flowery fragrance intoxicates and envelops you in a veil of softness and purity. The benefits of Moroccan rose water are many. Explanations.
Pure Moroccan rose water is obtained by distilling rose petals. "It takes about 400 fresh roses to make a liter of floral water". It is a beauty product that is used in the composition of many cosmetics… – More
Here are two recipes, as old as the world, to make your own natural rose water at home. Rather easy and fast, this homemade rose water will be the ally of your skin on a daily basis!
Discover how to make your own rose water, the ingredients you will need, how to prepare it, and a little bit of rose water's history! –More
Moroccan rose water vs Bulgarian rose water
Bulgarian rose water comes from the flower "Rosa damascena", a species of the plant Rosaceae, a well-known ornamental plant called the "queen of flowers". While Moroccan rose water is produced by traditional distillation of rose petals, in the Kelâat M'gouna region of southern Morocco, it is used to produce rose water… -More
Moroccan rose water and beauty?
Rose water has a lot of positive effects on our health and is a very useful product most particularly when it comes to cosmetics and therefore beauty. – More
Moroccan rose water has always been amazing for its positive effect on our skin. It has always been one of the best natural remedies for acne treatment for example. It is very effective not only in treating acne but also in treating acne scars on the skin.
However, there are many cosmetic creams and treatments available for acne treatment that are marketed, but the use of natural remedies is a low-cost choice, and without any side effects that will treat your acne best. -More
Yes! You can drink Moroccan rose water like in a tea by heating it up or as a Moroccan tea with rose water or even rosebuds. In case of constipation, there are many solutions. If you have rose water at hand, for instance, put a little in your meals and your digestive problems will unblock, and again, you will definitely see results for other kinds of health problems that you might have. – more
Moroccan tea with rose water?
Yes! It is not "very" famous, but it exists indeed a Moroccan tea with rose water that is really easy to make and is really delicious. The ingredients required are only:
Hot water
Green tea
Mint leaves
Rose water or rosebuds
Sugar
-More
Is it used for cooking in Moroccan cuisine?
Rose water has been used for centuries in Maghreb and Middle Eastern cuisine. Ice creams, Moroccan salad with carrots, and Moroccan desserts such as cookies (which there are many kinds) flavored with rose water. Just as there is also (for all Moroccan lovers) Moroccan couscous sweetened with rose water. Not to mention that you can enjoy this meal or desserts with a nice rose tea. –More
Are they any products based on Moroccan rose water?
Yes! Moroccan beauty products are very famous and used widely like Moroccan henna, Moroccan Argan oil, and even Moroccan rose water. You can find a lot of products online, like for instance: Rose water wipes or towelettes, a Moroccan rose water sprinkler, a rose water beauty blender, etc. -More
How to find Moroccan rose water?
You can make your own rose water. All you need is a handful of rose petals (untreated) and 25 cl of boiling distilled (or mineral) water. The set must be infused for 20 minutes, off the heat, before being filtered. Alternatively, rose water can be purchased in organic shops, in para pharmacies, but also on the Internet like Amazon, Etsy, Overstock, eBay, Walmart, BeautyExpert, etc.
If you click on the link of a product on Kanbrik.com and decide to buy it, we can earn a small commission.