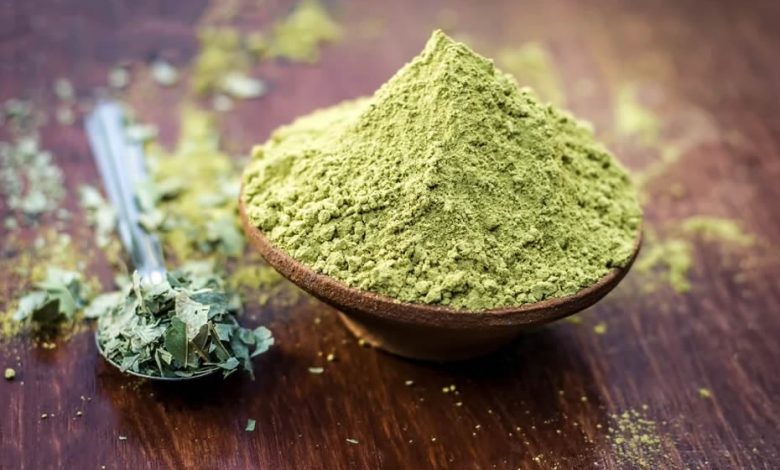 Henna comes from the leaf of a shrub called lawsonia inermis.
The leaves of this plant are picked and ground into powder when dried. This green powder is mixed with various ingredients to obtain a paste that will naturally color the skin, hair, and nails.
Henna is known to be marketed in three forms:
"natural" henna,
"neutral" henna (does not contain any dyes),
and finally "black" henna.
Moroccan henna: meaning, history, origin?
Henna is an ancestral tradition in Morocco that magnifies women in different moments of their lives. It is traditionally mainly used for beauty, against the evil eye, to protect hair, skin, nails, for festive occasions and is a sign of happiness, joy and good fortune.
However, the use of henna, which is not limited to the Maghreb world of Arab-Muslim culture, is widespread in other civilizations. Mehndi, which consists of henna tattoo, is practiced in India, Pakistan, Sudan and most countries of Muslim culture.
Is Moroccan henna used for hair?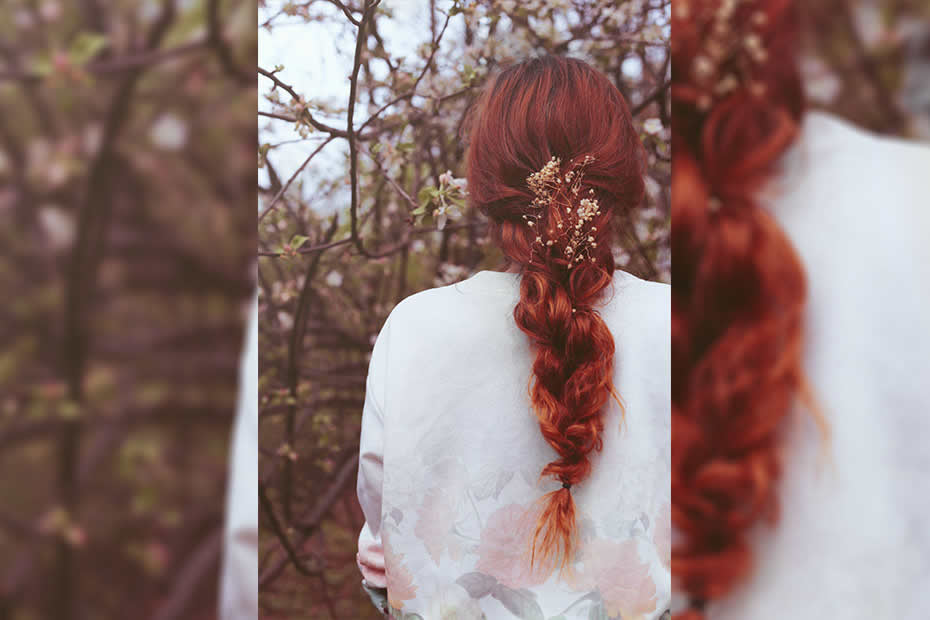 Yes, definitively! It is used to protect, to repair, and to strengthen hair. Without forgetting the fact that Moroccan henna is also used as a natural dye that gives a very beautiful look to your hair and also adds highlights.
Among the beauty secrets of Moroccan women, we find henna hair dye. Of course, this dye is 100% natural and here are the major reasons why henna should be applied on hair:
It gives a nice and beautiful color to the hair.
It strengthens and beautifies hair, by adding highlight.
It cleans and purifies the scalp, is very effective against dandruff and is also an anti-lice.
Moroccan henna gives hair a nice red-orange color.
It's a natural organic dye easy to make and that lasts a long time.
Moroccan henna covers grey hair.
How to apply henna on hair: the complete process + tips and tricks
7 Beneficial Things That Henna Provides
How to mix Moroccan henna?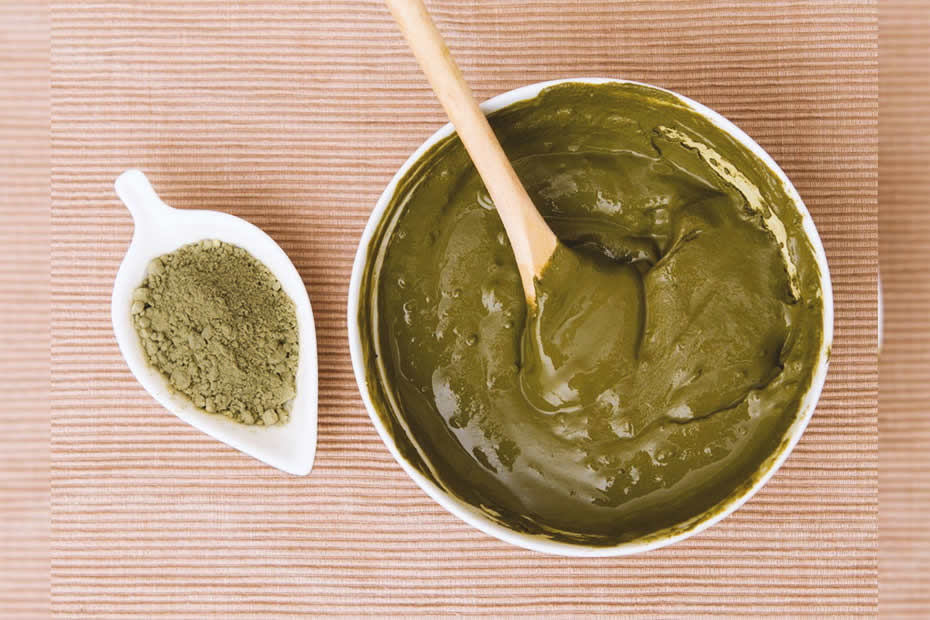 The preparation of henna is really simple: A bowl, henna powder, and water. Mix them all up and you've got your henna paste. As simple as that!
However, you should know that some add a few other ingredients to this mixture depending on what they need and want such as oil, honey, egg, etc.
Others have some henna tips and tricks but it is just necessary to know and take into consideration that, like all herbal preparations, metal utensils or containers should not be used. It degrades the active ingredients of plants.
Is Moroccan henna commonly used for weddings?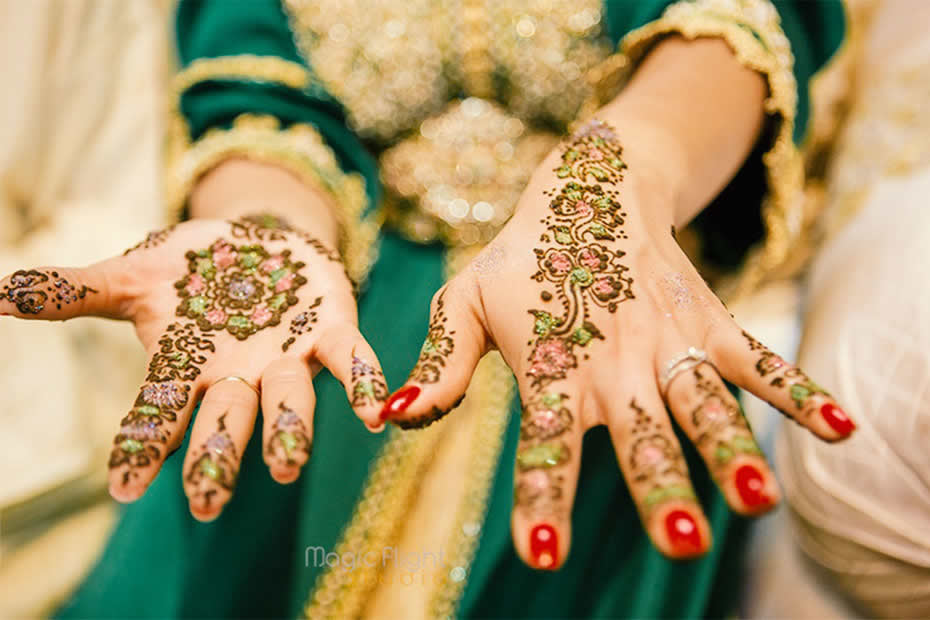 What are Moroccan henna traditions?
Henna is used in Morocco especially for festive occasions such as:
births,
weddings,
and religious celebrations.
Today, henna is still one of the most essential and unavoidable traditions in a Moroccan wedding.
There is a ceremony called "the henna ceremony" that takes place before the wedding celebration (during the week or on the day before the wedding night) during an evening surrounded by only women.
This henna ceremony, which is a very special event in Moroccan culture, consists of applying symbolic "tattoos" on the bride's hands and feet, sometimes even hair. It does not only serve for beauty but also to bring Baraka (Moroccan saying used to refers to a mysterious force of wonder that is considered a blessing ), luck and divine protection, to future spouses. The Moroccan bride who is dressed in a green dress gets her hands and feet tattooed by a professional, named "Nekacha".
The bride is comfortably settled, with cushions around her to ensure maximum comfort while waiting for henna to dry, once it's been applied. We should not forget that this important step in the Moroccan tradition is an exclusively female celebration, bringing together the female members of the bride's family (mother, aunts, cousins and nieces), and possibly the female members of the groom's family; those who will be the bride's mother-in-law and sister-in-law. It is especially at this moment that a lot of pretty pictures are taken since the Moroccan bride is at the heart of all the attention.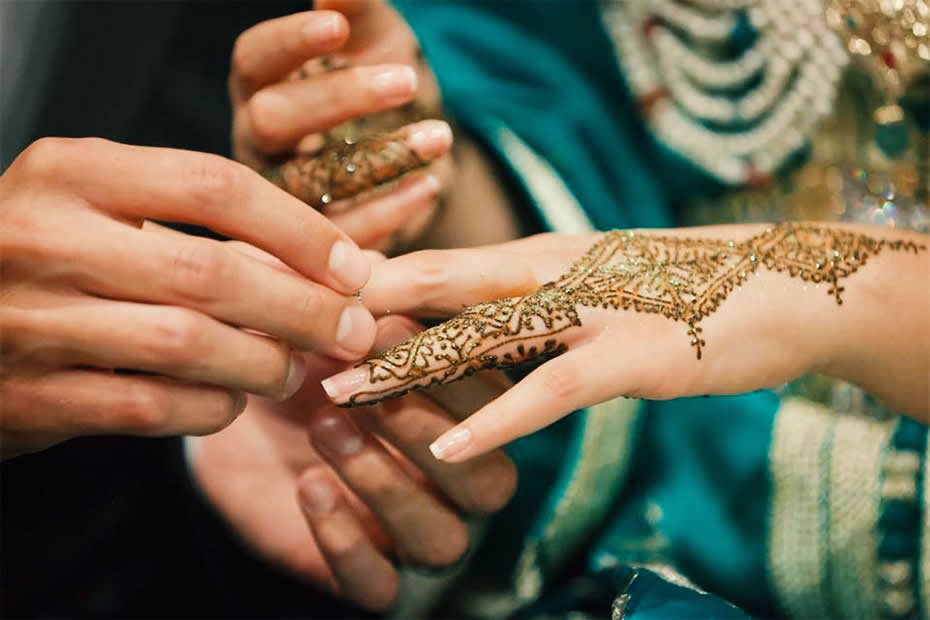 Jewish Moroccan henna or a Moroccan henna celebration for a Jewish wedding. Is this a thing? Is it true?
Well, let me tell you that the answer is: yes. Moroccan Jews also use henna and especially for a wedding celebration.
The first reason why henna is used by Moroccan Jews is most of all for Beauty
Henna with its shimmering colors will make the bride beautiful and pleasant in the eyes of her fiancé. It plays kind of a make-up role. For your information: It is usually the mother and the future mother-in-law who place henna in the hands of the engaged couple.
Another reason why Moroccan Jews use henna for weddings:
Henna comes from Hen in Hebrew, which means "to find grace". And during the ceremony, the fiancée wishes to find favor in the eyes of her fiancé. In Judaism, the word Henna has an even deeper meaning. The word 'Hinnah' is composed of the initials 'H – N – H'. These are the first letters of the three Mitsvot of major importance to study in order to be accomplished by getting married:
Halla: The henna ball (which is like a ritualistic Moroccan Jewish henna stain) in the fiancée's hand is like the small amount of bread dough that the woman has to take and burn.
Nidda: Concerns all family purity laws. During her menstruation, the woman has a special status: she is "niddah", in other words: impure, excluded, rejected (physically, not morally). Henna is celebrated seven days before her wedding because it is the first time that the girl will count her seven days of purity. In addition, henna, which has a reddish color, recalls the color of blood.
Hadlakat Nerot: The lighting of the Sabbath candles, which occurs on Saturdays. For your information, the Jews believe that God created the universe and all that it contains in six days to rest on the seventh day. The Sabbath is one of the eternal signs of the covenant between God and the Jew. And that is why the Jew stops all his work from the week until the end of the night on Friday evening to devote himself entirely to god body and spirit on this day of holiness. The purpose of lighting candles is to bring peace to the home by adding light.
Moroccan henna tattoos: what are they?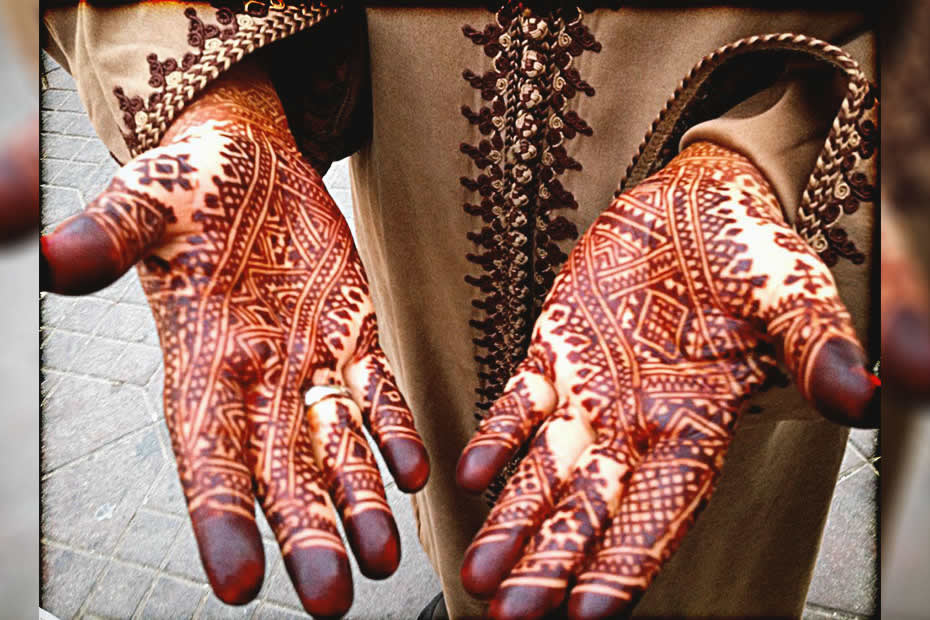 Moroccan henna tattooing is a traditional practice that involves drawing on the skin (usually hands or feet) using a Moroccan syringe henna applicator. It is an ephemeral tattoo made with henna paste, a natural dye derived from the powder of a plant (Lawsonia inermis). The patterns are usually floral or abstract and there is not ONE design that defines Moroccan henna! Also to be known is the fact that you can make them last longer with some tips.
But what does Moroccan henna mean? 
The henna tattoo is a sign of happiness, joy and good fortune. For example, a tattoo in the palm of the right hand is effective against the evil eye. A tattoo of drawings on a married woman's hands and feet is a symbol of purity. In Muslim countries, like Morocco, women used to come out with their whole bodies covered, except their hands and feet. The application of henna to these two areas is, therefore, a sign of seduction. Similarly, it is a kind of protection against bad spells. On the other hand, it is still not appropriate to wear a henna tattoo when mourning or fasting.
Nowadays, more and more young people all over the world are getting tattoos with Henna, seduced by the beauty of its graphics and especially by its ephemeral nature, because this is its major asset. Some even use methods to make henna tattoos last longer to enjoy even more its beauty.
How long does Moroccan henna last?
A natural henna tattoo gradually fades with the renewal of the epidermis and usually remains visible between 2 to 3 weeks, but they are some tips to make henna last longer.
These are some types of Moroccan henna designs:
Traditional Moroccan henna
Jewish Moroccan henna
Marrakesh Moroccan henna
Moroccan mandala henna
Fassi Moroccan henna from Fez
Moroccan Berber henna style
But remember that there is not ONE design that defines Moroccan henna! The most commonly used in Morocco though is the traditional Moroccan henna, which has generally floral patterns or abstract motifs.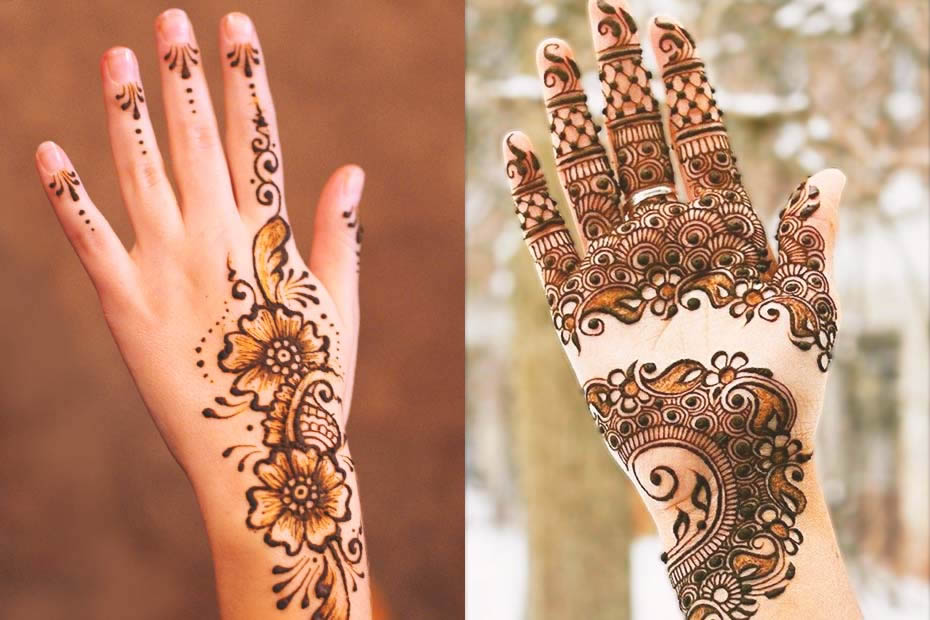 Here are the main differentials between Moroccan and Indian henna:
Moroccan henna or simply "henna" is used in the Muslim community while Indian henna, which is called "Mehndi", is more widely used in the Hindu community.
Mehndi and henna are basically words that refer to the same plant that has been used to dye hair, skin, leather, wool, and many other products since time immemorial.
To specify even more: Henna is a dried leaf that is transformed into a ground powder mixed with water to form a paste. Mehndi is the final product of henna. In other words, the paste made from dried leaves is called henna.
What are the reviews on Moroccan henna?
Most foreigners LOVE Moroccan henna as an amazing natural dye that has many benefits and especially for its ephemeral tattoos.
You can also find online a lot of products based on Moroccan hennas like magic Moroccan lipstick, or some cool henna tattoo stencils that I really advise you to go and check out.
How to find henna?
After reading all of this, you're probably thinking: Okay, great! But how can I find Moroccan henna near me? Where to buy Moroccan henna? Especially, fresh Moroccan henna powder. 
Don't worry! we've got you covered.
If you are in a Muslim country you can find it easily by asking around or simply going to a local store, etc.
If not, you can find Moroccan henna in a lot of places, like for instance: an organic store, Amazon, Etsy,  LightInTheBox, Overstock, Walmart, eBay, BeautyExpert, AliExpress, Bonanza, and on and on. But mostly the problem that women ask themselves is not only where to find it but mainly the quality and the reliability of the henna. And there are a few ways to find out if the henna is of good quality before you buy it or even after.
How do I know if henna is of good quality? and 100% natural?