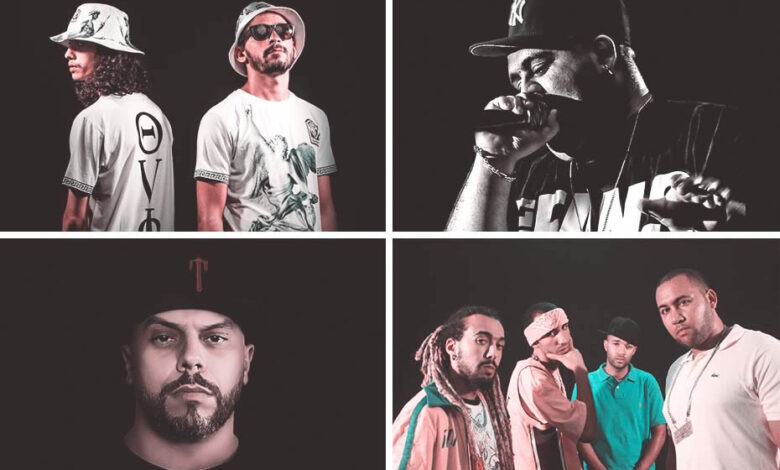 Morocco is a country that has a huge diversity in music. The Moroccan Rap scene is not the most popular genre of music in Morocco, but it's definitely one of the most interesting. The best Moroccan rap artists are known for their creativity and talent. Their lyrics are about social issues, politics, and their daily lives.
Some of these rappers have had success in the international scene as well, which is always an accomplishment for any artist. I will be answering the question "Who is the best Moroccan rapper?" by providing a list of the top best Moroccan rappers.
When did rap start in Morocco?
Rap music has been popular in Morocco for a while now. The first Moroccan rap song was released in the late 1990s. It was called "Nhar El-Hajar" by DJ Abdelkarim. It is considered to be the first Moroccan rap song to be released commercially on CD.
Moroccan Rap: Why is it not famous in the US?
At a time of internationalization of information, it seems that some things, paradoxically, have difficulty crossing borders. This is the surprising case of Moroccan rap, a movement that was not born from the last rain and that has developed independently, with millions of views on YouTube, in a country where the record market (traditional and legal) does not exist. How did we miss such talented Moroccan rappers? Maybe it's because we look too much at the United States, Canada, or other famous worldwide music countries. This is probably also due to the language barrier, since very few Moroccan rappers adopt English or French as their language of expression, preferring Darija, the local dialect.
A Moroccan rapper who made it internationally
Morocco is a country in North Africa that has a rich and diverse culture with many talented artists. One of these artists is French Montana.
You probably didn't know Montana was Moroccan until now. His real name is Karim Kharbouch. He was born on November 9, 1984, in Rabat, Morocco. French Montana is an American-Moroccan rapper, producer, and entrepreneur. He is the founder of the label Coke Boys Music, and its predecessor Cocaine City Records.
He did many collaborations with really well-known singers like The Weekend, Lil Wayne, Nicki Minaj, Drake, and more! He was also until 2015, Khloe Kardashian's boyfriend.
Lots of his singles won awards, for instance, in the Teen Choice Award. He even won 3 Grammy Awards! As a Moroccan rapper, he is definitely one of the most famous and best rappers in the world right now!
Who are the best Moroccan rap singers to discover Moroccan rap
Making a selection in this teeming with trends and influences was not an easy task, so it seemed necessary to us to separate our selection into two blocks. The first is composed of those who made this movement possible in Morocco. They come from the first generation of Moroccan rappers. They fought to make Moroccan rap what it is today, even if it means encountering some problems with the local police and sometimes long stays in prison. The second part of our selection presents the new generation, the one that lights up festivals all over the country and that we often find featuring with French artists who want to promote them. Far from being exhaustive, this selection aims, above all, to introduce you to little-known artists from a rap scene that is constantly evolving in a country that has been undergoing social and political change for more than ten years. Here are the top 10 best Moroccan rap singers below!
Here are the pillars of the Moroccan rap scene
Now a legendary group, founded in 1996, H-Kayne (which literally means in English "what's the matter?") is THE group to know when it comes to rap in the kingdom of Morocco. Their second album HK-1426 will be the first Moroccan rap album to be sold outside the country and to be notably present on Fnac shelves (a large French retail chain selling cultural and electronic product).
The group then performed throughout Europe and has been awarded the National Award Medal by the Moroccan King, Mohamed VI. The members of the group have each started a solo career, but still continues to this day releasing new songs as a group.
From the Casablanca middle class, Taoufik Hazeb AKA Don Bigg is considered as one of the pioneers of Moroccan rap. He started playing music at the age of 14 and spoke only in English. He later realized that the best way to be heard by the greatest number of people was with the Moroccan dialect called Darija.
This Moroccan rapper, Don Bigg, expresses in his lyrics the uneasiness of a society full of paradoxes and does not hesitate to fire red bullets at the corrupt Moroccan system. One of his powerful albums named "BYAD ou K7AL" (in English Black and White, an album on which we find La Fouine but especially Fredwreck, the beatmaker of Tha Dogg Pound and Snoop Dogg) make Don Bigg one of the most famous flag carriers of Moroccan rap.
It was in the early 1980s that Saad AkA H-Name was born in Casablanca. In 2004 he made his first demo "Just Style". He was noticed for his flow and his atypical voice. He then multiplies singles and collaborations and in 2006 with the Moroccan Rap movement which begins to invade the streets of Morocco that H-name started to work seriously.
He formed a group "Casa-System" with the rapper Pirate, and together they quickly climb to the top of the Moroccan Rap. They played several songs and release a few clips such as "L'Feeling Dayz", "M'ansina" or "Casa-System" that created a buzz on the web. But despite this success, which will be a great experience for our artist, too many disagreements within the group will make him decide to continue solo.
H-Name quickly became noticed by his flow and voice, he was described at first, even if this label didn't stick to him for long, as "The Moroccan Eminem" (listen at 1:06 the song L'feeling Dayz below)!  
Since he went solo, H-Name has been busy. He released a lot of track that some ranked at the top of several charts. This shows the talent and diversity of this artist who has much more than one string to his bow. Below is one of his more recent music clip videos featuring Barry Maroc.
Originally from Casablanca and created in 2003, the Casa Crew group is composed of the legendary Masta Flow, Chaht Man, Jocker, and Caprice. This is one of the major groups of the first Moroccan rap scene. The success of the song "Men Zanka L'zanka" will push them to perform on all stages of the Moroccan kingdom and in many countries in Europe and Africa. They made only two albums before Masta Flow took off to pursue his solo career with equal success.
This Moroccan rapper is definitely a pioneer of Moroccan rap. He is from a popular neighborhood in Tangier and a member of the mythical group Zanka Flow. Muslim is really a reference throughout the Maghreb. His cavernous voice, his militant texts, and his will to always evolve independently make him a real pillar that contributed to the development of rap in Morocco.
Originally from the city of Casablanca, L7a9ed started to rap in 2004 with two friends. Three years later, he released his first album L7a9ed Men Oukacha (in English L7a9ed from Oukacha, his hometown in Casablanca), which was a real success. The ultra-prolific rapper has released many albums since then but has also made himself infamous for his trips to prison, including one of more than a year because of his many texts pointing fingers at the corruption plaguing the country. It should be noted that L7a9ed received in 2015, the prize for freedom of expression from the NGO Index.
Moroccan rappers: The new generation today
Originally from Casablanca, 7liwa, a Moroccan rapper, can be considered a more "recent" artist of this selection but with a very important success first of all thanks to a 10-minute anthology piece without chorus (!) delivered on ASAP Rocky's "One Train" instrument. Then came a Ktabi Baki mixtape and above all an impressive number of videos, each one crazier than the other (some of them are even forbidden to minors) that allow 7liwa to sit back on his universe (long hair, tattoos, and excessive apology for drug use), totally out of step with the rest of the Moroccan rap scene. An artistic universe that could definitely become international if they would not only rap in Darija.
This young Casablanca native has been revolutionizing the Moroccan scene since his debut with mad energy and well-assumed American influences. With many national and international collaborations to his credit, Dizzy Dros is a real rising value in Moroccan rap. In May 2016, he and rapper Komy remixed Fat Joe's song "All The Way Up" by changing the lyrics and singing in the Moroccan dialect. It has since become one of the most viewed Moroccan rap songs on YouTube.
Originally from the Moroccan city of Safi, the two Moroccan rappers form a unique duo and impose their art with their own style thanks to goodwill.
Over time, Shayfeen has acquired a phenomenal reputation and enrich the Moroccan rap scene by reaching a very large audience. Formed in 2012, they are a real success with listeners from the Moroccan kingdom and throughout the Maghreb. It is a very well-known duo that have an EP and several cool music videos like the one below.
Taha Fassi AKA El Grande Toto is a young Moroccan rapper from Casablanca born in 1995. After releasing 2 projects, BNJ City Block and Caméléon, in 2017, he reached a real milestone in 2018 with the release of the excellent EP llicit, becoming one of the headliners of a Moroccan rap in full expansion.
One of his most viewed hits is SLAY a collab he did with Manal BK (a well-known Moroccan singer), Pablo, HORS SÉRIE another collab with other Moroccan rappers: Don Bigg, Draganov, and Khtek. Discover here all his biggest hits.
Who is the best Moroccan rapper?
Don Bigg may be considered the best Moroccan rapper. He is often called a "legend" because of his dedication to rap. He is definitely the most well-known rapper in Morocco that is considered to be the best.
In conclusion
Morocco is known as a country with a huge diversity in Music. Even if Moroccan rap may not be the most popular genre of music in Morocco it's certainly is for the young generation.
We tried our best to compile only the top best Moroccan Rappers. Of course, there are several other talented Moroccan rappers known today but this is in our opinion only the best of the best.