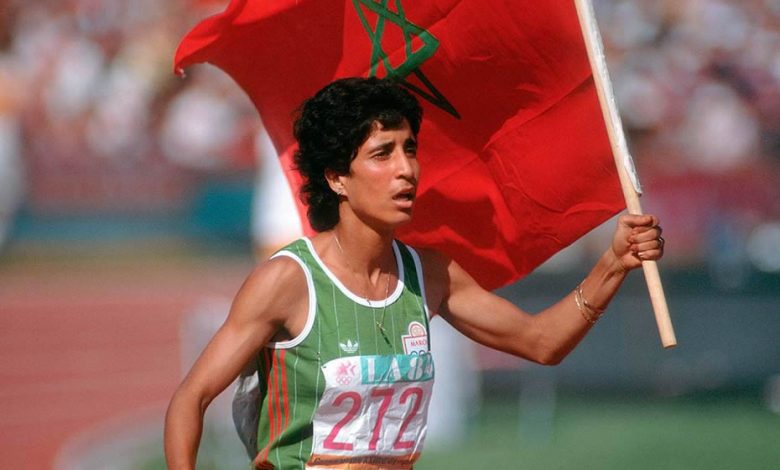 A true star in Morocco, Nawal El Moutawakel has written one of the most beautiful pages in the history of Moroccan sport. She was the first Moroccan, Arab, African and Muslim woman to win an Olympic gold medal in the 400m hurdles at the 1984 Olympic Games in Los Angeles. A successful sportswoman, she is also an emblematic politician.
Nawal El Moutawakel was born on 15 April 1962 in Casablanca, Morocco. In 1978, she began a sports career. Following the advice of her coach, Jean-François Coquand, the Moroccan became a specialist in the 400m hurdles. She won her first two international medals in 1982. Nawal El Moutawakel won two gold medals at the African Championships in Egypt, in the 100 m hurdles and 400 m hurdles. In 1984, the Casablanca native made Olympic history. She became the first Arab, African and Muslim woman to win an Olympic gold medal in Los Angeles, the first in history to understand the women's 400m hurdles. The Moroccan won ahead of the American Judi Brown and the Romanian Cristina Cojocaru, and at the same time, she improved the African record in 54 s 61. Later, Nawal El Moutawakel won two medals at the 1984 and 1985 African Championships.
Following this rich career and after studying physical education at university in the United States, Nawal el Moutawakel began a coaching career after graduating. In 1995, she was elected member of the Executive Committee of the International Amateur Athletics Federation. In 1998, she became a member of the International Olympic Committee (IOC). In August, Nawal El Moutawakel was appointed Secretary of State to the Minister of Social Affairs in charge of Youth and Sport by King Hassan II, a position she held until March 1998. She was subsequently appointed Minister of Youth and Sport under the government of Abbas El Fassi on 15 October 2007, a post she held until 29 July 2009. In the 2016 legislative elections, she was elected as representative of the national constituency on the women's list.
Nawal El Moutawakel has received many distinctions including the National Merit (exceptional order) awarded by King Hassan II of Morocco (1983), Knight of the National Order of the Lion awarded by President Abdou Diouf of Senegal (1998). Also, in 2015, she was decorated with the Legion of Honour by the President of the French Republic, François Hollande, among other distinctions.