What to do in the evening in Marrakech? As in any large city, you have at your disposal many establishments with varied atmospheres: restaurants, bars, nightclubs… But you can also take advantage of the night to discover the city in a different way and take a walk. There are many areas of interest!
Jemaa el-Fna Square
If there is one place in this city that you should visit at nightfall, it is Jemaa el-Fna Square, one of the most famous squares in the Maghreb! It is located at the entrance to the Medina and is lined with restaurants and shops.
You will meet storytellers, musicians, snake charmers, henna tattooers, fortune tellers, and monkey shows and can attend real street shows. By the end of the afternoon, a large number of food stands were set up there.
Everyone offers their own culinary specialty. Until very late at night, you can buy fresh or dried fruit, drink freshly squeezed orange juice, and enjoy traditional dishes on simple benches.
Tourists come there but the place is also popular for Moroccans who find, in addition to the possibility of eating and enjoying themselves, various services such as dental care or traditional medicine.
From the famous Jemaa el-Fna square, take the opportunity to admire the minaret of the Koutoubia which is illuminated in the evening. It's magical!
A walk through the souks
Near Jemaa el-Fna are the souks whose shops remain open until about 9 pm. Take a short stroll, walk, lose yourself in this labyrinth of covered streets, and above all immerse yourself in this special atmosphere, smells, colors, and lights.
In this maze of small shops and craft workshops, you will undoubtedly find, after a forced haggling, your happiness. This walk is a delight for the eyes and leaves an enchanting memory.
Walking and horse-drawn carriage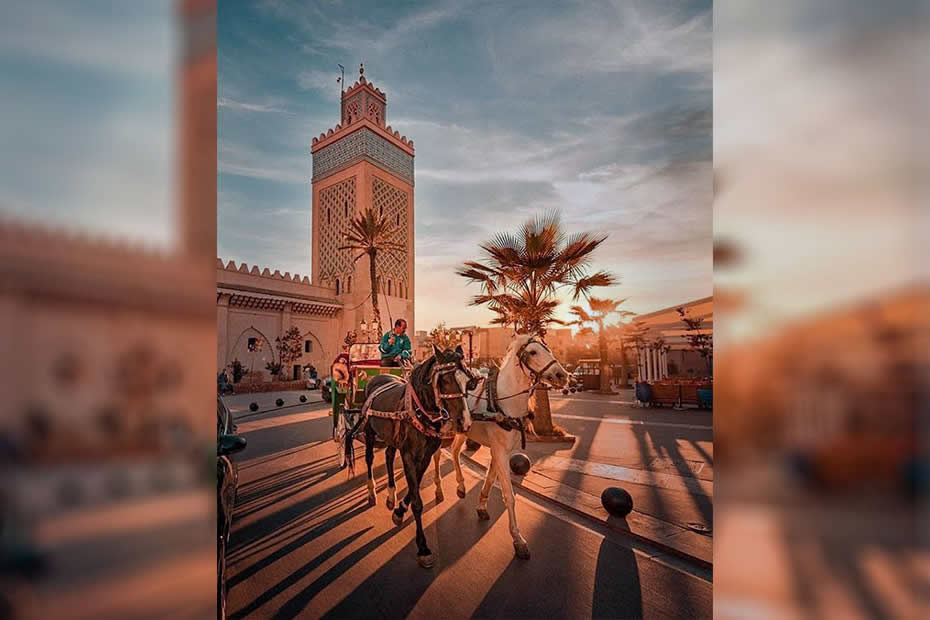 Walking is still the best way to get around Marrakech. Very few streets in the Medina allow car traffic, most are narrow and exclusively pedestrian.
So to better discover the ochre city and immerse yourself in the magic of this city, walk! This activity is all the more pleasant at night during the summer season because the temperature then becomes milder.
You can also rent a horse-drawn carriage, for example, to take a tour of the illuminated ramparts at sunset. This mode of transport is traditionally used by the Marrakchis but it also attracts many tourists.
You will easily find them on your way and it is a pleasant and easy way to walk at night and explore the city. However, it is advisable to negotiate rates or offer a package so as not to have any unpleasant surprises.
Randomly in the alleys
Finally, during your night walk in Marrakech, far from the hustle and bustle of the square and the souks you will discover, undoubtedly, in a recess or at the bottom of an alleyway a beautiful finely carved door, a fountain decorated with fabulous mosaics or a magnificent patio. Hidden treasures: this is also the charm of the imperial city renowned for its architectural heritage.
Marrakech is a beautiful city at night.