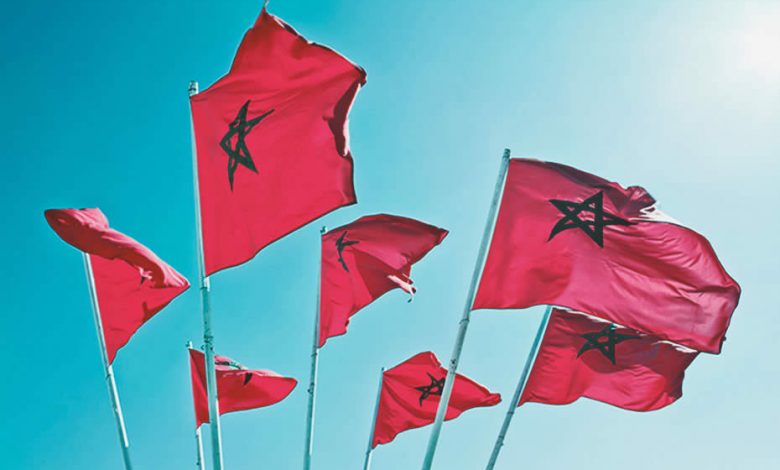 One of the first countries that reacted quickly to the pandemic that is ravaging the world right now: Morocco…
Many countries were overwhelmed and visibly unprepared for the possibility of a pandemic that could ravage the world in such a short period of time. This was not the case for Morocco, which knew what to do…
The Covid-19 pandemic made its first appearance in Morocco on March 2nd, 2020. Since then, Morocco has known how to react and anticipate in comparison to several major countries such as Italy, Spain, Canada, and even the United States. Yes, Morocco has been able to face the virus better than Canada and the United States!
Morocco, the country that knew how to anticipate the pandemic
During the week of March 9th to March 15th, noticing that cases were beginning to emerge in the Moroccan Kingdom, that they come from foreign countries (Italy, France, Spain, Austria) and that the situation was getting worse all over the world, Morocco closed its schools, and more importantly, its borders …
A few days later, even though there weren't really many cases, which is still the case now, quarantine was suddenly announced in Morocco. On March 20th, the Moroccan authorities declared a "state of health emergency" until April 20th. Since then, no one was allowed to go out, except in case of extreme necessity. And to do so, an exit authorization sheet that has been distributed to one person in charge per family was required. As a result, any person disobeying the authorities could be punished with up to three months in jail and a fine, as high as 1300 dirhams (about 124 euros).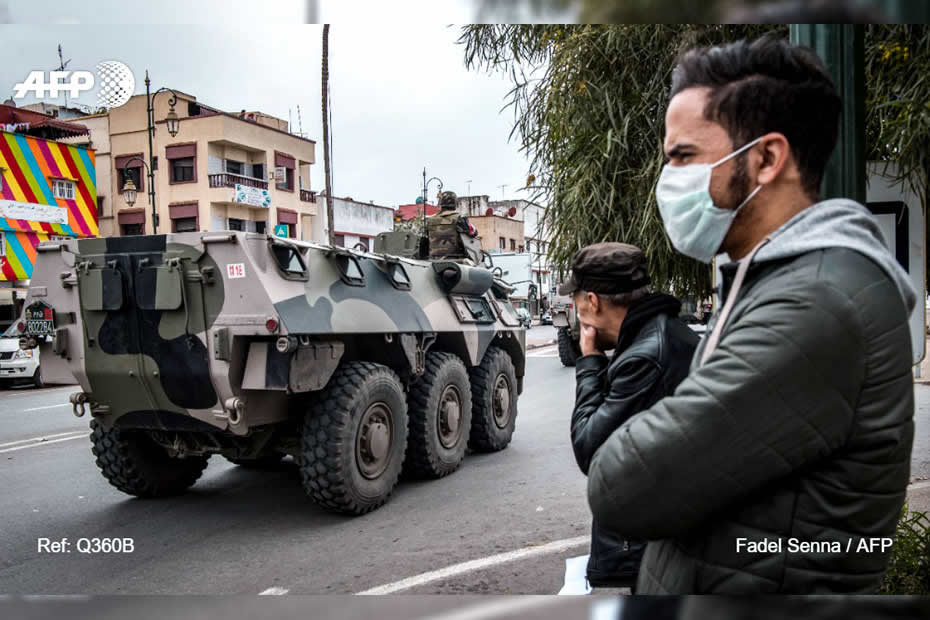 Since Friday March 20th, army tank units have been patrolling the major Moroccan cities. Police officers drive around in vehicles equipped with loudspeakers and tell people to go home for the good of their country and for their health.
And since then, Morocco has never ceased to show the best of itself, of its warm-hearted people and it's outstanding, envied and remarkable management of the Covid-19 crisis.
When Morocco is an exception
Compared to some "evolved" countries that have savagely gathered up in the shops by ransacking them and fighting over some toilet papers or simply lining up in endless queues at the grocery shop, the vast majority of the Moroccan people have, on the contrary, listened to the good instructions recommended by the Ministry of Health and have thus been able to control themselves in spite of the fear of the unknown that may fall upon them.
However, it is true and normal to point out that Moroccans are afraid of what is happening. Not being able to provide for themselves is frightening, which is why it helps so much to have so many donations from the Moroccan people themselves.
Also read: One of the first person in the world that started to look for a vaccine against the Covid-19 is… a Moroccan?!
Surprisingly for some, this pandemic actually showed a beautiful facet of Morocco, not only for having been able to take the right measures quickly, but also for:
The number of donations offered by people and charities ;
Moroccan inventions created to help in the fight against the virus ;
Soon having about 5 million masks per day being produced ;
Showing the love that people have for their country and the king ;
Showing the beautiful fraternity that unites the Moroccan people.
It should not be forgotten also, the fact that the King of Morocco Mohammed VI had ordered on March 15th, the creation of a special fund for the management of the coronavirus pandemic, which since then has reached a total of more than 32 billion dirhams. Another Moroccan achievement among many others …
Morocco has also gone from a 1.0 to a 4.0 country, thanks to its distance learning, that was put into place in record times, which was a real big step forward. It is clear that individuals and the state have been able to develop skills that will certainly be capitalized for the benefit of the country.
When Morocco took better measures than some of the biggest countries in the world!
Here are a few examples that are worth mentioning:
Shipments from China arrived two weeks earlier, a few days after the quarantine (masks, medical equipments, etc.) ;
All the stocks of chloroquine in the country were bought by the King and used in Moroccan hospitals ;
Equipped advanced military hospitals are built and opened in record time ;
Moroccan stars donate equipments to the hospitals, food and even money to needy families ;
The streets and means of transportations are very well sterilized ;
And the list goes on and on… So many things that other countries should take as an example…
While the number of cases in big countries is skyrocketing in such a short period of time, it is clear that many of these countries have not taken the rapid measures necessary to avoid the increasing number of cases and deaths in the world.
If we take the example of the United States, the first case was confirmed on January 21st, but it was not until March 13th that a state of health emergency was declared after 2 000 cases and 49 deaths. However, even if the state of health emergency is declared, there have not been very strict measures as Morocco has been able to take. To date, cases have been growing at a rapid rate, with more than 500,000 cases and 20,000 deaths. Making the United States the most affected country by the Coronavirus which doesn't leave much hope for a quick improvement.
In Canada, the first case was confirmed on January 28th. Almost all the first cases had a history of recent travel to a country with a significant number of Coronavirus cases. Cases have been increasing slowly until the number of cases went suddenly up in March. On March 12th, Justin Trudeau, the prime minister of Canada, decided to isolate himself because his wife, Sophie Grégoire, contracted the virus after she returned from London. As the days passed and cases increased, Justin Trudeau advised, like the rest of the world, to its people to stay home, put themselves in "voluntary" quarantine after a stay in another country, and only go out when necessary. Quebec is the most affected area in Canada and did not order quarantine until March 23th. To date, the number of cases has risen to more than 13,000 cases only in Quebec and 24,000 cases in all Canada. The number of deaths are more than 700 a number that will surely increase a lot in the next few days…
In Spain, the first case was confirmed on January 31. The cases exploded, on March 13th, Spain had 4,209 cases and 91 deaths, the next day 5,753 cases and 121 deaths according to the authorities. On the same date, the Spanish government announced that the Council of Ministers would declare a state of alert the following day in view of the exponential growth in cases of coronavirus disease. Recently, the number of cases has risen to more than 166,000 cases and 17,000 deaths…
In France, the first case was confirmed on January 24th and the country moved to stage 3 on March 14th. It was not until March 17th that the population was confined to their homes, except for authorised reasons, in order to stop the exponential spread of the virus and, in so doing, to reduce the number of people affected and thus the number of deaths as much as possible. Today, more than 133,000 people have been tested positive for the virus, and more than 14,500 people have died. A situation that unfortunately continues to increase.
Of course, we must not forget Italy. The coronavirus started to spread on January 31st when two Chinese tourists tested positive for SARS-CoV-2 in Rome. It is only on March 10th that the country is placed in quarantine. The 10,000-case mark was exceeded with 10,149 people infected, including 631 deaths. To date, more than 156,000 cases and more than 19,890 deaths…
When we now compare Morocco to the biggest countries in the world…
Now let's compare with Morocco, which of course is extremely really close to Europe…
About two weeks after the occurrence of the first cases of Coronavirus and with only 86 cases in the whole Kingdom of Morocco, including two cured and three deaths, the Ministry of Interior declared a state of health emergency. A sanitary containment had to be respected in order to fight against the pandemic, without forgetting of course, that the borders had already been closed before. This is definitely one of the main reason why Morocco is a model to follow in regards of the Coronavirus.
Recently, Morocco surpassed only 1600 cases with a total of more than 110 deaths. A reasonable number, if we compare it to the other countries in the world. Click here to know the update results on all the Covid-19 cases, recovered, and deaths in Morocco today.
Also read: Coronavirus: how many confirmed cases, recovered and deaths in Morocco today?
While countries have a shortage of masks such as the United States, France, and Canada, Morocco has a production of masks "made in Morocco" which today amounts to about 3 million per day. A number that will rise to 5 million a day starting this week. Let's mention also, that since Tuesday April 7th, it is mandatory to wear a mask in Morocco and they can be found in all grocery stores.
The masks, whose price was initially set by decree at two dirhams, have been sold to Moroccans since Tuesday, April 7, at only 0.8 dirhams each, (approximately 7 cents euro). This price has been half reduced thanks to state aid, which has supported local industries with the help of a special anti-Covid fund. The Minister of Industry of Morocco, Moulay Hafid Elalamy, also said that Morocco will soon export its masks to Europe.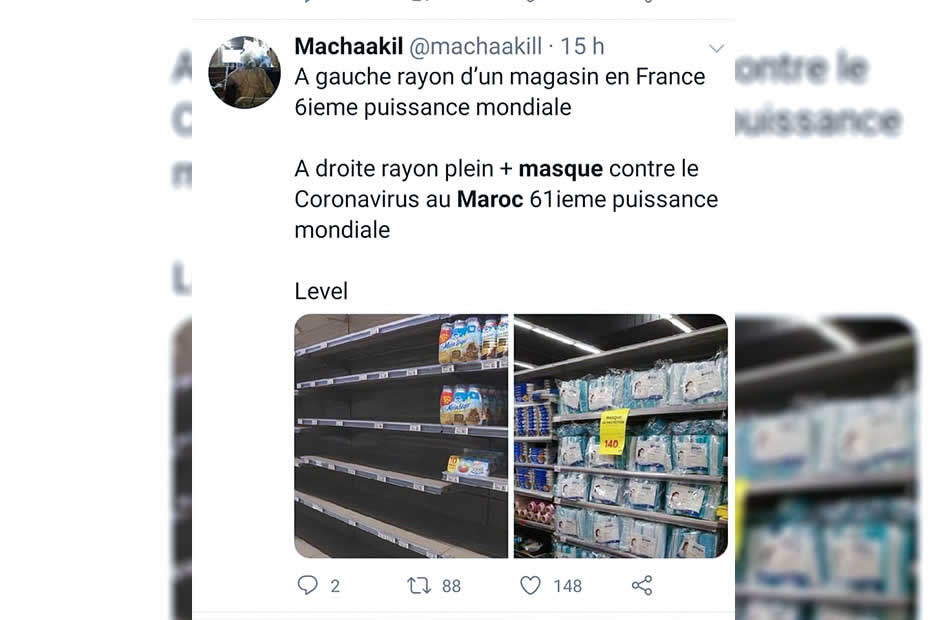 Several posts on Twitter were shared to congratulate Morocco and to show and share the "shame" they felt for France after some of their shops were almost ransacked and emptied, not to mention the lack of masks in France, which encourages them to make "self-made" masks.
In the picture above it is written: "On the left, shelves of a store in France 6th largest economy. On the right, full shelves + masks against the Coronavirus in Morocco 61st largest economy."
It should also be mentioned again that military hospitals have continued to open in record time since the last one was installed in less than 6 days, and that there are in total several hospitals to receive patients.
Morocco has also manufactured its own 100% Moroccan respiratory machines for Coronavirus patients, as well as a temperature measuring device.
This artificial respirator operates continuously with an autonomy of 3,000 hours and can be used in both urban and rural areas with electricity or ordinary batteries.
For its part, the temperature measuring device can be used at the entrance of establishments and administrations to detect possible cases of Covid-19 contamination.
The big hearts of Moroccans have no limits
Not only humans suffer from the Covid-19 pandemic, but also animals that used to be fed by tourists or locals.
Some Moroccans in Casablanca took the initiative to come and feed a flock of pigeons in Mohammed V Square. This square, the administrative center of the economic capital of the Kingdom, is locally and worldwide known and called "Place des pigeons" (which means: Pigeon square).
During the lockdown, police officers in Morocco also took the time to feed the street cats to prevent them from starving to death.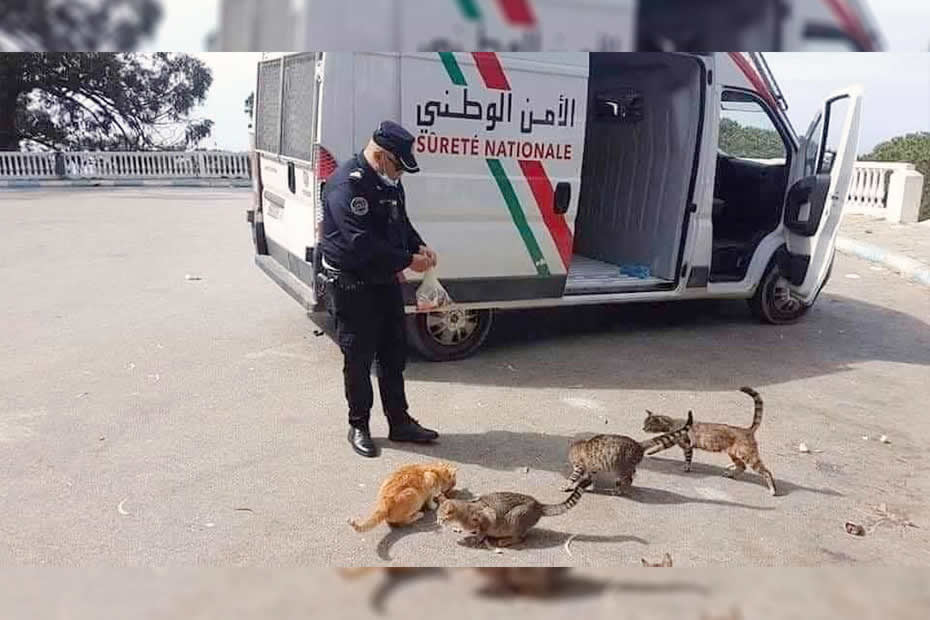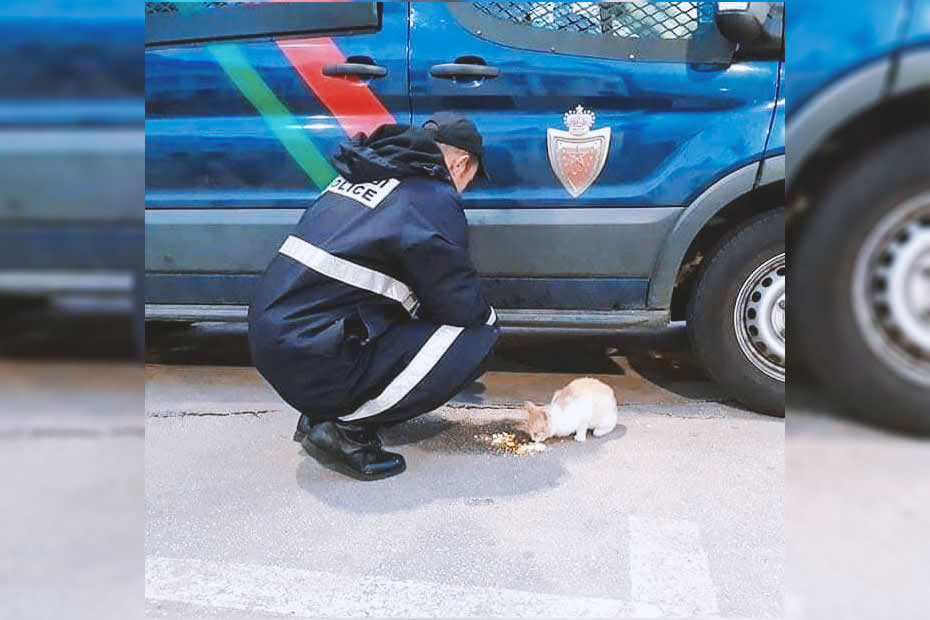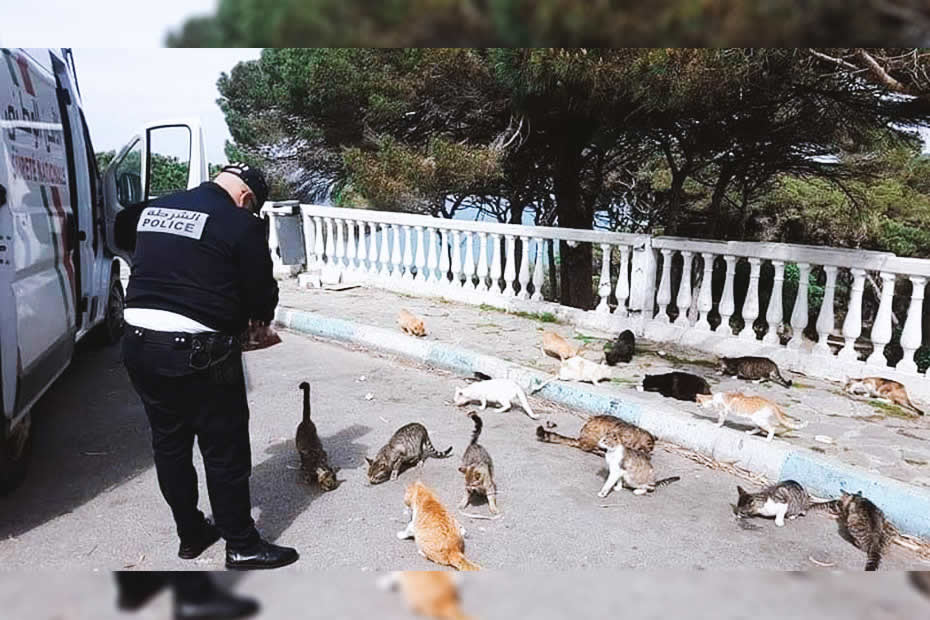 Morocco favored to many foreign countries
Morocco was even ranked among the best countries in the fight against the Covid-19 pandemic and was able to overcome the financial pressures compared to other countries.
An Indian newspaper recently reported that Morocco has taken exemplary measures in its fight against the new coronavirus (Covid-19).
The Moroccan kingdom is even favored to many foreign countries. Several tourists staying in Morocco, due to the abrupt closure of borders to overcome the coronavirus, have said they are glad to be "stuck" in Morocco. Many have put videos on the net to let people know that they are happy to be confined with the wonderful Moroccan people!
A situation that looks promising
The cases in Morocco are not so high compared to several other countries where the situation is only getting worse, which is one of the reasons why we should hope only the best for Morocco in the upcoming days.
April 20th, 2020, is the date announced for the end of containment in Morocco. A date so eagerly awaited by all Moroccans who are waiting impatiently for the end of the confinement to finally return to their daily activities. A task that could be possible given the good measures taken in advance by Morocco and its king that love his people more than the economy!
In conclusion
Morocco was awesome! They taught Europe and the whole world real lessons, for examples: Ministers and parliamentarians donated their salaries, respirators are being provided within a week, masks are sold for €8 per 100, curfew set at 6 p.m., disinfection of all public places, all patients are being treated with chloroquine.
Not to mention that if a person has been diagnosed positive, the police investigate to see who they have been in contact within the last few days and go to their homes to be diagnosed.
Europe for instance, are not able to equip their healthcare workers with dignity, and they still don't have enough masks for their population! They make TGV, drones, planes, but they have difficulties making a piece of fabric?
These are a few reasons why even foreigners preferred to be locked down in Morocco than in their countries. Morocco feels safer and in control especially since it is one of the rare countries that took quick measures to fight against the Coronavirus.
History will not forget. Well done Morocco!